Skip ahead
A needle to fit any machine
Practically every modern home sewing machine uses the same kind of needle. These universal needles with the code 130/705 have a shank with one flat side that make it easy to insert them correctly. In fact, they won't go in any other way.
Needles with round shanks may be used in older machines (think of those pedal-powered beauties of yesteryear) and in some sergers and commercial machines.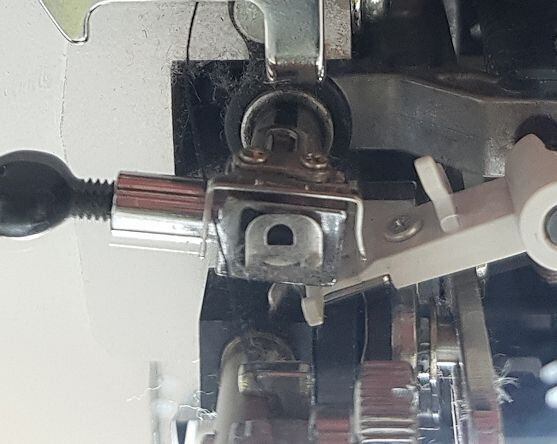 The instruction book that came with your sewing machine will tell you which type of needle your machine takes. Or just grab a little mirror and place it under the needle bar (where you insert the needle) to see if the opening is round or D-shaped.
The brand you buy is not that important. European sewing supply stores might carry Schmetz, Prym, Organ, and sometimes Akra needles. In North America you'll see Klasse and Singer too. All are of comparable quality.
Sewing machine needle sizes
Information displayed every a pack of needles includes the manufacturer name, basic code, size, and needle type.
Let's start with needle sizes. There is more than one way of expressing the size of a sewing machine needle.
One is the international standard, which is based on the metric system – a size 80 needle has a diameter of 0.80 mm. American sizes are also numbered (8, 10, 12, etc). Some needles are marked with both sizes, eg 80/12 or 90/14, which is how we'll talk about them in this article. It's just various ways of saying the same thing.
Needles come in sizes 60/8 through 130/21, with sizes between 70/10 and 100/16 available in even the smallest shops.
The table below will give you a good idea of which needle is best for your project. If you're not sure about a particular fabric, don't let it worry you too much. This is not an exact science and, especially for medium sizes 70/10 to 90/14 it doesn't make a big difference.
Internat'l
Standard
American
size
Applications
60, 65, 70
8, 9, 10
Very fine fabrics – chiffon, organza, georgette, habotai, charmeuse
70, 75, 80
10, 11, 12
Lightweight fabrics – cotton, light or middle weight linen, silk crepe de chine, satin, jersey, brocade
90
14
Medium to heavy fabrics – heavier linen, corduroy, velvet, fleece
100
16
Heavy weight fabrics – denim, heavier corduroy, heavy duty linen, coutil, garment leather
110, 120
18, 19
Very heavy fabrics – such as upholstery
130
21
Extra reinforced fabrics – multiple layers
Sewing machine needle types
There is also a wide selection of needle types. There are so many different types it almost makes you want to collect them all.

The needle type is generally stated on the package in plain English. The various types are pretty universal among manufacturers. If you're ever unsure, just check the manufacturer's website. Usually this information is written on the back of the pack too. Needles sold on a card (Schmetz, Prym) generally have it written there too.
Do not underestimate the importance of needle type. Choosing wisely will save you time and nerves!
| Needle Type | Applications |
| --- | --- |
| Universal, Standard | For all non-stretch fabrics. Most of the time you can also use them to sew fabrics with some elastic content – but test on a scrap first to see if any stitches are dropped and, if so, use a Stretch needle. Universal needles usually come in sizes 60/8–90/14. |
| Stretch | Stretch needles are made for working with knits that have some elastane fiber content – jersey with elastane, swimsuit fabric, stretch velvet. They're also good for fleece, fake fur, and felted wool, all of which are actually weaves. Whenever you're working with a stretchy material and you're not sure which needle use, opt for Strech. |
| Jersey | Jersey needles are made for sewing knits that do not have any elastane – 100% cotton or rayon jersey. They are also good for tulle and other loose weaves because they have a rounded tip that slips easily between fibers without damaging the material. |
| Microtex, Sharp | Thin, sharp needles for sewing very tightly woven fabrics such as microfiber, taffeta, duchesse, poplin, neoprene, and inlet. Also good for sewing coated fabrics (vinyl, fabric with waterproof coating). |
| Jeans | As you might guess, these are good for sewing denim, heavy twill, and similar materials. The needle is designed to resist breakage and will make a durable seam without dropping a stitch. |
| Leather | Leather needles are designed for use on garment leather and thicker vinyl fabrics (for thinner vinyls use a Microtex needle). It has a special, sharp point to puncture leather. Also useful for sewing paper and "leathered" paper. |
| Quilting | Quilting needles can pierce several layers of sturdy patchwork cotton with ease and, when quilting, will not pull batting material to the surface. |
Using the right thread
It's a little known fact that needle size is primarily determined by the thread being used, even more so than the fabric. If you look closely, you can see that the blade of a machine needle has a groove that helps feed the thread to the eye. The thread should fit nicely into the groove. That's why you should always try to match the needle and thread.
There are three scenarios that the home sewist will encounter most often.
Needle sizes 70/10–90/14 should handle everything from chiffon to a woolly winter fleece. For this type of sewing, use a universal polyester sewing thread (sometimes a specialty thread like an elastic thread for sewing knits), that you can pick up in any store that sells sewing supplies.
For working with especially fine, thin fabrics use a number 70/10 needle and ordinary thread. If you want really fine seams, use a 60/8, 65/9, or 70/10 needle along with an extra fine thread like Gütermann Extra Fine M 202. For a number 60/8 or 65/9 needle use only extra fine thread. For a number 70/10 needle, you can use either extra fine thread or ordinary sewing thread.
For number 100/16 needles and up use an extra strong thread. A number 90/14 needle can go both ways – it will take a universal thread as well as some of the heavier threads and a good home sewing machine can usually manage heavy fabrics too. For needles 100/16 and up look for something like Gütermann Extra Strong M 782, Gütermann Denim, Unipoly Jeans, Mettler Extra Strong, or similar thread.
Sewing machine needles to have on hand
A parting tip – if you stock a few basic needles in your sewing box at home, you'll always be prepared for most projects.
What should you keep on hand?
Universal needles in 70/10, 80/12, and 90/14 – one pack of each
Stretch needles – size 80/12 or a mixed pack with three sizes
Jeans needles – handy for for everything from jeans to tote bags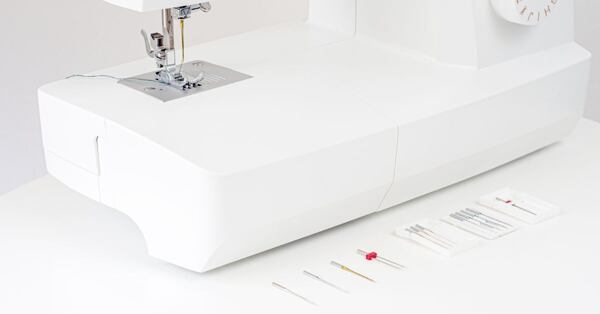 ---