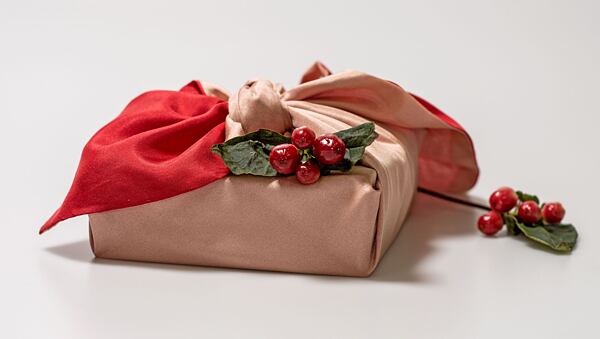 What is furoshiki
The Japanese word furoshiki (風呂敷) refers to a square piece of cloth used for wrapping, carrying or storing all sorts of items.
It traces back to the Edo period (1600–1688) when public bath houses, or sentó, began appearing in cities throughout Japan. Bathers carried their belongings and a clean set of clothes wrapped in a neat bundle in just such a square cloth, which also came in handy for standing on while changing.
The word is a compound of two parts:
1. furo (the first two characters) means bath
2. shiki (the third character) is a form of the verb shiku, which means to lay out
Essentially, furoshiki is an ordinary scarf that took on this special name due to its particular use. They usually come in a 28-inch square (70 x 70 cm) or an 18-inch square (45 x 45 cm).
We'll take a closer look at the history of furoshiki at the end of this article. Now let's get wrapping!
Why wrap gifts in a scarf?
The wrapper is a gift in itself. Choose a scarf that the receiver can use once they've unwrapped their present, maybe in their favorite color or print.
It is beautiful and eco-friendly. Hate to see all that wrapping paper go to waste? A scarf is something that lasts.
It won't rip or crease like paper. It's much easier to wrap with fabric. If you don't get it right the first time and you wrinkle or crease the scarf, just iron it out and start over.
It wraps any shape. Our tutorial will show you how to elegantly wrap items with corners (like a book), round boxes, even a bottle of wine.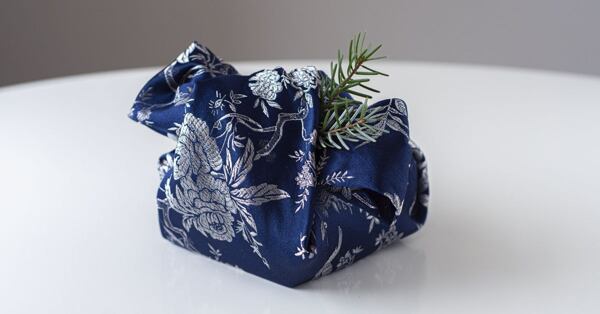 Best fabrics for furoshiki
You can wrap a gift in just about any square scarf. It can even be a sturdy fabric. Choose your size based on what you're wrapping.
Want to sew a furoshiki scarf yourself? There's nothing easier. If you need a little help, see our step-by-step guide to sewing a silk scarf.
For extra effect, try using a two-toned scarf in contrasting or complimentary colors. A good fabric for this sort of scarf would be silk habotai or a silk-blend voile.
How to wrap a box
Let's start with the most basic furoshiki wrapping method. You can use it to wrap a rectangular, oval, or round box. We will finish with a traditional mamusubi knot.
Lay the box in the center of the scarf.
Fold over the upper and lower corners to almost touch the box. Then fold them over the box as shown in the video.
Take the left and right corners and make a triangle. Then fold the corners over the box as shown in the video. You can include a flower or sprig as decoration.
Tie in a traditional mamusubi knot.
See a demonstration in the video below:
Method 2: How to wrap a bottle
Furoshiki also easily handles odd shapes, like a bottle. Once again, we'll use the mamusubi knot that we learned in the previous video.
Stand the bottle in the middle of the scarf.
Grasp two opposite corners and tie them in a knot at the top of the bottle.
Take the remaining two corners and tie them around the bottle, once again adding the mamusubi knot. You can add a decoration if you'd like.
You can make the knot at the top of the bottle into a loop for carrying the gift. See the video to see how it's done.
History of furoshiki
Square scarves were certainly in use long before the Edo era. The Shosoin treasure repository, for example, has silk shawls that are roughly 1,300 years old. Over the years scarves have been made of silk, cotton, and in recent times synthetic materials.
What furoshiki was used for
Furoshiki has been used for many purposes. In Japan, people used to tie a scarf into a makeshift shopping bag. Square sheets of fabric, often patched together from scraps, were also used to carry luggage when traveling. The largest pieces were carried on the back in huge scarves measuring up to 7 feet (220 cm) on each side.
Gifts were wrapped in scarves made of more expensive, elegant material or in a special "gift wrapper" (fukusa, 袱紗). The most exclusive choice of material, of course, would have been silk brocade.
Of course, children love playing with furoshiki scarves too. And any number of Western women have taken to just wearing them, with their beautiful patterns and materials, as head or neck scarves.
One rather special use of these scarves was the wrapping of items for the tea ceremony, referred to as chadogu no furoshiki (茶道具の風呂敷). Scarves for this purpose were roughly 20-inch squares (50 x 50 cm) and had to meet especially high esthetic standards. Examples of these special tea ceremony furoshiki still exist from the period of the tea master Kobori Enshua (1579–1647).
How to make a bag from a scarf
Furoshiki is still popular in Japan today. People use scarves to carry their groceries, or even their laptops.
Here's how to tie your own bag:
Fold the scarf in half diagonally, making a triangle with the wrong side of the fabric facing up.
Make knots midway at each side.
Turn the fabric right side out and hide the knots inside.
Tie together the tips of the two corners.
See how it's done in the video.
Scarves with plum blossoms and family crests
Furoshiki came in all sorts of patterns, often inspired by the seasons of the year. For example, in the early spring there were plum blossoms, in summer morning glory, in autumn red maple leaves, and so on.
For furoshiki it was also useful to have a family crest on your scarf, because it helped you identify your bundle in a public bath house. Scarves were often dyed with indigo (aizome 藍染), usually using a stencil (katazome, 型染).
Some patterns were tongue in cheek, such as the combination of the sickle (kama), ring (wa), and the syllable "nu" written in the hiragana alphabet to make up the word "kamawanu," which means "fine with me" or "it doesn't matter."
Symbols were also important, whether they represented the seasons or stood for longevity, happiness, prosperity, and wealth.
Colors mattered too. They were used to show what the furoshiki was used for or even just to match the kimono worn by the lady carrying it at a ceremony.
---