The rules of care symbols vary by country
Care symbols on textile labels are governed by clear rules. Yet the rules in various parts of the world are different. (And they have changed over time.) Garment makers in Australia write their instructions in plain English – Canadians use English and French. Pictograms are required in Europe – they're voluntary in the U.S.
The use of simple laundry symbols to convey basic information about how to care for your textiles makes life easier in a polyglot world. Though regional variants differ slightly, the symbols across systems are similar enough that you should be able to orient yourself most of the time.
We'll have a look at the international standard – ISO Standard 3758:2005(E) – that is used in Europe (by Sartor too). Wherever the ASTM symbol set that's used in North America differs significantly, we'll make a note.
The 5 elements of laundry care
It's not hard to pick out the iron in the lineup of pictograms below, but what is the triangle supposed to mean? And does the washtub mean handwash only or is machine washing okay?
The first rule of thumb is that there are five elements, in this order: washing, bleaching, drying, ironing, professional cleaning. Sometimes the symbols are not especially intuitive (any idea why bleach is a triangle?) but at least their order makes sense.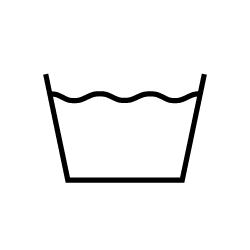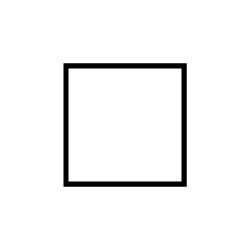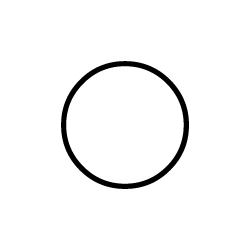 It's also easy to decipher what's meant when a symbol is crossed out.
It's simply a warning NOT to do something.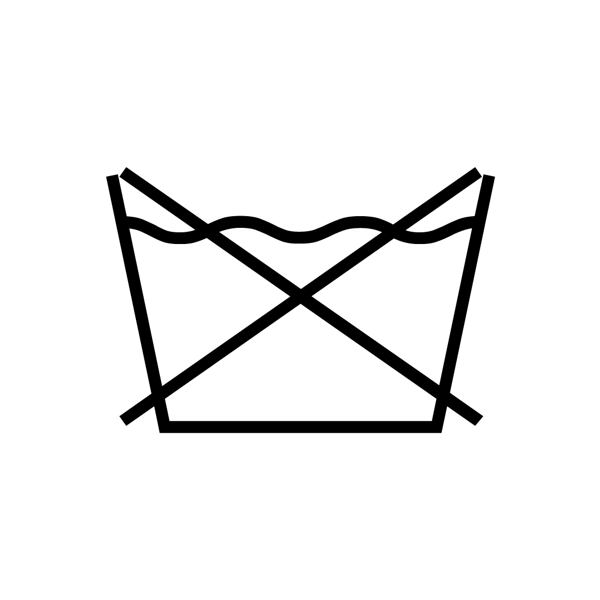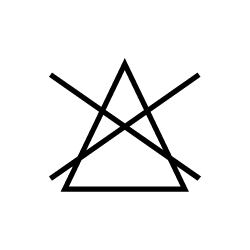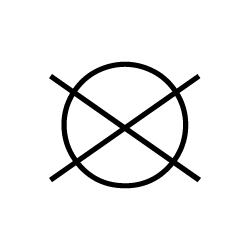 You won't run into a label where everything is crossed-out very often, except maybe on soft toys or household items.
Each symbol states the maximum acceptable care – in other words, gentler handling is always welcome. If the label says wash warm (60°C), of course you can wash it in cool water, but not in hot. Likewise, just because bleaching is allowed does not mean that you have to do it.
Washing symbols on care labels
The washtub symbols give a range of information about home laundering, from maximum temperature to required handling. The temperature is given in degrees Celsius (in North America by a series of dots from one to six, where six is hottest). The degree of gentleness is indicated by underlining below the tub: A double underline indicates delicate handling, a single line permanent press, and without an underline is normal wash. The more lines the more careful you should be.
If hand washing is called for, assume lukewarm water and gentle handling.
Other water temperature symbols on care labels
Sometimes the temperature is expressed in dots rather than numbers, especially in places where the use of the metric system is not well-established (we're looking at you, USA). The chart below shows the temperature "dots" used in North American washing symbols.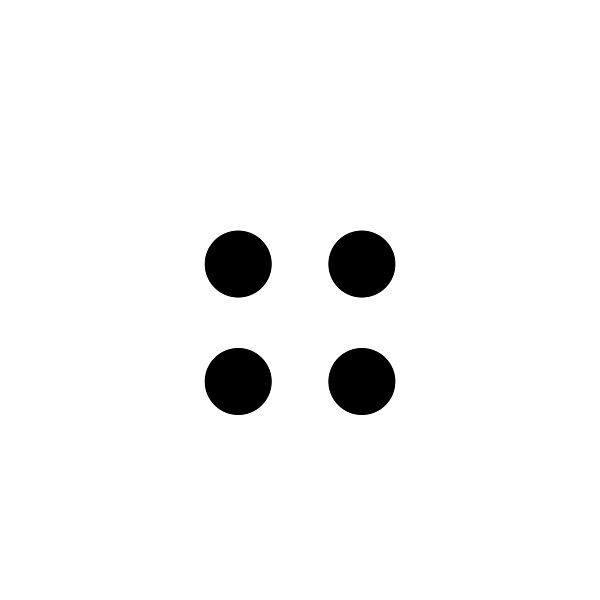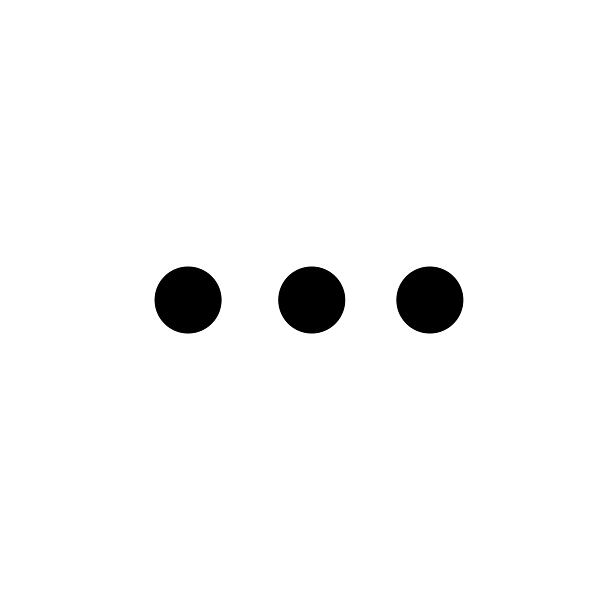 Bleaching symbols on care labels
The bleaching symbol tells you what sort of bleach may be used. Domestic bleaches come in two types: Peroxide and chlorine.
Peroxide bleaches usually contain the active ingredient hydrogen peroxide or sodium percarbonate. They are fairly gentle and their number includes all sorts of gels and stain removers used to pre-treat laundry before washing. Sometimes they are labeled "active oxygen." Some common household examples are Vanish, OxiClean, and others.
Chlorine bleach (containing sodium hypochlorite) is what people generally think of as laundry bleach. It is far more aggressive than peroxide bleach – removing not just stains, but all of the color in a garment. A typical example is a product like Clorox, which is used to whiten clothes. Chlorine bleach comes in handy for craft projects (spray it around a stencil on a colored t-shirt to make a pattern, for example). The product label will always note the presence of sodium hypochlorite on the contents list and among the hazardous material warnings. Never use chlorine bleach on wool, silk, and polyamide – it causes irreversible damage to these materials.
Drying symbols on care labels
You most often see the drying symbol in its tumble dry variant – a circle in a square – which tells you that you are free to toss the item into the dryer. Crossed out it means that the item cannot be machine dried.
Beyond the world of tumble drying, the humble square can also be made to convey a range of other drying options. This is one area where the symbols differ between North America and pretty much the whole rest of the world. Both alternatives, European symbols and American, are shown below.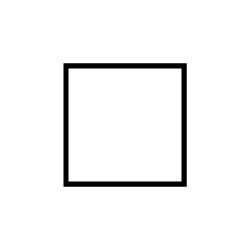 Dry. This is the generic symbol for drying. No concrete method is stated.
Line dry. Hang to dry on a line. The item should be just damp when hung, not dripping wet. May be dried in the sun.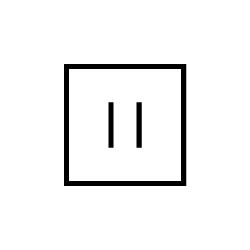 Drip dry. Hang to dry on a line. May be dried in the sun. Do not wring dry – hang dripping wet. This method is mostly used for large items like blankets and sheets to avoid wrinkling from wringing.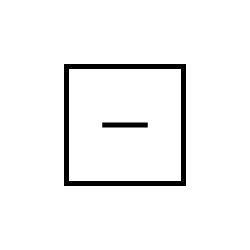 Dry flat. Lay flat to dry. Press out excess water first. May be dried in the sun.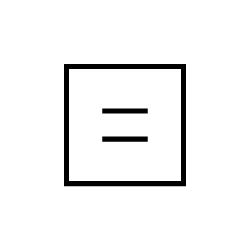 Dry flat while wet. Lay flat to dry. May be dried in the sun. Do not wring prior to laying out. Applies for delicate textiles that could be damaged by wringing or hanging. (There is no equivalent ASTM symbol.)

Line dry in the shade. Hang to dry on a line out of direct sunlight. The item should be just damp when hung, not dripping wet. Direct sunlight could cause fading.

Drip dry in the shade. Hang to dry on a line out of direct sunlight. Do not wring dry – hang dripping wet.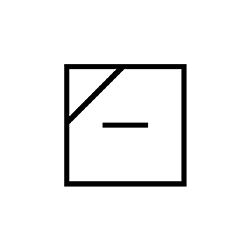 Dry flat in the shade. Lay flat to dry out of direct sunlight. Press out excess water first.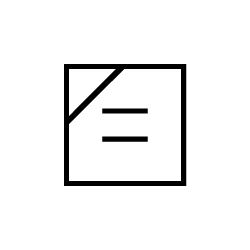 Dry flat while wet in the shade. Lay flat to dry out of direct sunlight. Do not wring prior to laying out. (There is no equivalent ASTM symbol.)
Ironing symbols on care labels
The ironing symbols are the most intuitive of the lot. The iron pictogram can be enhanced with one to three dots, indicating the maximum heat, as well as symbols depicting the use of steam.
Dry cleaning symbols on care labels
Garments that should be dry cleaned are labeled with (admittedly) cryptic pictograms that may confuse the layperson but that any dry cleaner will understand. The symbols in this, the fifth, group consist of a circle with or without a letter inside that tells what sort of cleaning method should be used. An empty circle crossed out means that the item should not be dry cleaned at all. These symbols also let you know if you should use stain removers containing solvents such as benzine.
Other laundry symbols on care labels
The ISO standard symbols above have one slight drawback: They are registered trademarks and their use is subject to a licensing fee. The rights for their use belong to the international organization GINETEX, which has 18 member countries with national committees each overseeing use of the care symbols in their territory. The ISO standard was first published in 1991 and updated and renewed in 2005 and 2012. If you have textiles that date from before this period or come from parts of the world that use another labelling system (Australia, the U.S., Canada, China, etc.) you may run into different symbols not covered here.
While writing this post, I dug through my closet for some care labels to use as examples. I found all sorts of labels, some with one set of symbols, some with two or three, and others with none at all. With this article in hand, though, you should be able to decipher anything you come up against.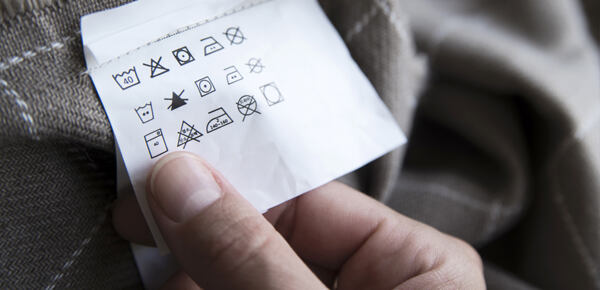 Other non-ISO symbols you may encounter
Care labels when shopping for fabrics
Did this post help decipher some of the labels in your wardrobe?
Have you got a weird one that we didn't cover?
Share it with us in the comments below!