Before we get started you should know what this article is NOT. We will not talk about the different kinds of silk fabrics – that's a topic unto itself, one that you can read about in our complete guide to silk fabric types. And if you missed it when we covered the basics, go back for a look at the first article in our silk series to learn all about silk.
Silk fabrics can be made of a whole array of silk yarn types. This article covers natural silk. It's a good idea, however, to understand why it is that the term "silk" has so often been associated with synthetic fabrics too. The historical reason for this problem has its roots in the "endless" silk filament.
Silk as an endless filament
Up until the end of the nineteenth century, all types of yarn, with the exception of silk yarn, were spun. That means they were made of relatively short fibers of raw materials like linen or sheep's wool that were spun together to make a nice, long yarn. In comparison, the silk filament taken from the silk moth's cocoon did not have to be spun – it was so long (a single cocoon unwinds into a single, smooth, uninterrupted filament up to a mile long) that it came to be known as the "endless" filament, or "filament silk." And because the only filament that was endless was natural silk, the two words "silk" and "filament" eventually came to be used as synonyms.
Artificial silk
Enter the industrial age. With new discoveries in the textile industry came new, man-made, endless filaments – rayon and then polyester. These newcomers aspired to emulate and surpass real silk (something they have never succeeding in doing) and because their filaments were also endless, they were often referred to as "silk." The resulting confusion still has repercussions today. Even now you'll occasionally bump up against a "silk market" or "silk fabric" that has nothing whatsoever to do with natural silk and is really just along for the ride. So, beware of artificial silk. Modern regulations forbid the use of the term "silk" to label synthetics, but examples of this practice inevitably continue to crop up.
Natural silk
Unlike artificial silk, natural silk can only be derived from the cocoons of silk-secreting insects. There are various types of natural silk, which we will discuss below. All of these pure, natural materials are characterized by the excellent qualities of pure silk we describe in our article All about silk. Now, let's take a look at the individual types of natural silk, one by one.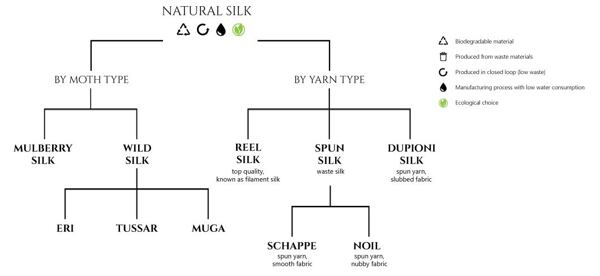 Mulberry silk
Mulberry silk is probably what comes to mind first when someone says "silk." The term "natural silk" is most closely associated with the fiber produced by the mulberry silkworm (Bombyx mori). This is a domesticated moth, bred over thousands of years from a wild species. You may hear mulberry silk referred to as "cultivated silk," although making such a distinction is a little misleading since practically all varieties of silkworm are products of cultivation. The mulberry silkworm requires a lot of special care – it is fattened on mulberry leaves under very specific climactic conditions and when its time comes it is gently placed, by hand, into a special pupating chamber so that its cocoon will be perfect and symmetrical. Each cocoon is made of a fiber up to a mile long. The fibers are very fine and even in their raw form have the distinct luster of silk.
Mulberry silk accounts for most of sericulture production so the bulk of natural silk on the market is of this type. It is used to make a broad range of silk fabrics. Our article on silk fabric types will tell you more.
Wild silk
The mulberry silk moth is not the only creature whose cocoons can be used in textiles. There are other silk moths living in the wild that give us the fabrics known as wild silk. While wild silk has traditionally been held inferior in the West, the opposite is true in India. This is really just a matter of taste. Wild silk is stiffer, more rustic looking, with a slightly muted hue (dyes don't take as well on it as on mulberry silk), but it's just as light and airy as any other silk and its untamed, natural appearance lends it an uncommon beauty. The most common types of wild silk are eri silk, muga silk, and tussar silk.
Far less wild silk is produced annually than mulberry silk, so it's more difficult to come by. Paradoxically it's also less expensive. To see more of these unconventional fabrics, check out our selection of wild silks.

Eri wild silk
Eri silk is spun from the cocoons of the ailanthus silk moth (Samia cynthia). Produced mainly in Thailand and India, it is one of the highest quality wild silks. The pupa is not killed in manufacturing – cocoons are processed after it has emerged. This has earned it the moniker "peace silk." It's also one of the reasons that eri silk is preferred by many, including Buddhist monks.
Tussar wild silk
Tussar silk (also known as tussah, tassar, tasar, and kosa silk) comes from the cocoons of moths of the genus Antheraea. The natural color of tussar silk is a golden beige, but it can be dyed. Tussar silk is generally left in its raw form, so the fabrics made from it tend to have a crisper hand. In India, tussar is valued for its stiffness (starching is popular there) and is the preferred fabric for making sarees.
Muga wild silk
Muga silk is produced exclusively in Assam. It has a beautiful golden hue and is held sacred by some. It is the most expensive of the wild silks. Muga is produced by the muga silk moth (Antheraea assamensis). Fabrics from muga silk are lustrous and very durable. Historically they were reserved for use by royalty.
Spun silk
Cocoon processing creates waste in the form of extra bits of silk fiber. These remnants are not disposed of but are spun into thread like cotton or wool. The silk yarn that results is used to make spun silk fabrics such as noil and schappe. Spun silk is not as glossy as classic silk, but it has the same wonderful qualities: It's soft, light, and comfortable and it breathes. It has a rougher appearance and is less fine and delicate, so it's great for everyday clothing.
Note: Spun silk can be made from any kind of silk waste. It can be made from mulberry silk as well as wild silk.
Dupioni silk
Dupioni silk is a chapter unto itself. It originates with mulberry silk, because it comes from the mulberry silk moth, but technologically it differs from ordinary silk and is used exclusively to weave a silk specialty fabric called dupioni – it isn't used for any of the other types of silk fabric.
Dupioni silk is created when two silkworms spin their cocoons side by side, creating a double cocoon that can't be unwound without breaking the silk fiber. That means that the silk must be partly spun, resulting in a slightly irregular thread with tiny slubs. From this perspective, dupioni silk is a sort of by-product silk, but it's actually created intentionally (silkworms are placed into the pupating chambers in pairs to encourage the formation of these lovebird cocoons) because there is a strong demand for dupioni silk. The fabric is popular for its characteristic appearance and brilliant color palette – dupioni silk takes dyes especially well.
That pretty much sums up all of the types of silk available on the market today. Of course, you may also occasionally run into real rarities like spider silk, but the likelihood of getting your hands on any is about on a par with picking up a few yards of that wonderful cloth that the emperor's new clothes were made of.
If this topic piqued your interest, check out our post on the nitty gritty of how silk is made.