Why choose linen for bedding
There are a million reasons to choose linen bedding. If you're still weighing the pros and cons, here's some food for thought.
Linen bedding is beautiful and unconventional
A bed dressed in linen has particular charm. If you want a vintage look, a pale pink or beige linen can set the tone for a romantic bedroom. If eco-friendly design or clean, minimalist lines are your thing, linen fits the bill. It also comes in bright colors to wake up any interior – dyes come out richer and livelier on linen than cotton. You can get linen in solid colors, patterns, and in a selection of interesting weaves like shot linen or herringbone. A broad palette of hues is available, from pastels and natural tones to darks and brights.
Linen bedding is durable and antibacterial
Linen is much stronger than cotton. While it softens with every wash (making it more and more comfortable over time), it actually withstands everyday wear better than cotton does. If you've ever had a set of cheap cotton bedsheets, you know how they tend to come apart at the seams, fray at the edges, and pill up – none of that will be an issue with linen. In terms of strength and durability, linen is more comparable to a premium cotton damask with a high thread count.
Linen also earns points for its self-cleaning qualities. Just as linen clothing stays fresh in sultry weather, linen bedding dries quickly so mildew and bacteria don't have a chance. If you live in an area where the summers get hot, linen will help you sleep through the night and even if you break a sweat, you can just air out your sheets.
Linen bedding is cool and breathable
While cotton bedding also breathes, linen has a significantly greater cooling effect that you will especially value in the summer months. When the weather heats up, linen is a perfect choice.
Linen has character
Linen has an interesting texture. In comparison with cotton, soft, comfortable linen has a more definite surface structure that even looks a bit rough. Whether this is a pro or con is really a matter of personal preference – just like whether you'd rather sleep under a thick, wool blanket or a puffy, feather comforter.
I have a set of bedsheets made of a sturdy Bohemian linen (200 g/m2) as well as sheets made of cotton damask and I like both. Damask is smooth and elegant, while linen has a comfy, rustic feel that reminds me of my grandmother's starched sheets.
Linen bedding is easy to take care of
Linen bedding doesn't require any special care and is no more demanding than cotton. You can throw linen into the washer on warm (40–60°C / 140°F). You can even boil it if you have to. You can toss it in the machine to tumble dry or hang it out on the line. You can steam iron it or just leave it be (heavyweight linens don't really need ironing).
What kind of linen fabric is best for sheets and duvet covers?
We carry only long-staple linen with long, natural fibers that translate into higher quality fabric. That means your bedding will stay beautiful for years without pilling. Our selection of linen fabric includes plain weaves and twills, herringbones, shot linen, and linen blends incorporating cotton, rayon, and silk. Any of these fabrics will serve you well for sewing bedding so long as you choose a suitable width. Only the most delicate, featherweight linens are not up to the task. Choose linen with a weight of 140 to 250 g/m2 (4.1 to 7.4 oz).
You can use pure, 100% linen or try a blend of linen and cotton or rayon. If you opt for a linen and silk blend, it will need a little tender loving care, but the result will be exceptional.
How much fabric do you need for a linen duvet set?
Naturally, it all depends on the size of your bed, your duvet, and your pillows. If you have a set of sheets or a duvet set that suit you size-wise, use them as a model. Otherwise, measure your mattress length, width, and height for your fitted and flat sheets; measure your comforter or duvet if you are making a duvet cover; and measure your pillows for pillowcases.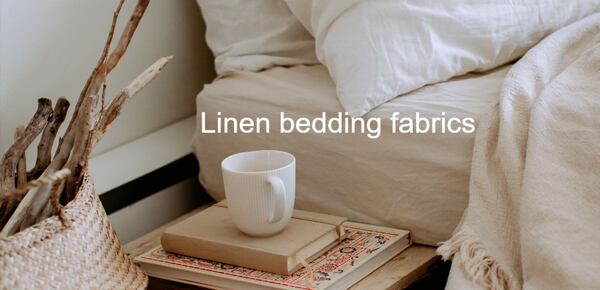 Check the bolt width
When you plan your project, remember to factor in shrinkage of 3–7% for linen fabrics depending on weight and weave. Our selection of linen comes in bolt widths of 135–145 cm (53–57 in), so if you figure in shrinkage, you'll have roughly 49–53 inches to work with.
If you want to sew a king-sized duvet cover, you'll need to get your hands on extra-wide linen, which we don't carry at the moment, or else you'll have to stitch together multiple panels to get full coverage, which will mean planning for seam placement. You can place a seam down the center of a cover or center a single panel and have seams running on each side – be creative, just remember to make your seams symmetrical.
Sewing a classic duvet cover
Our linen fabrics are perfect for sewing single duvet covers like the ones used in continental Europe. Try making up a double bed with two single-sized duvets instead of a shared comforter – you'll be amazed at how those endless disputes over who's stealing the blanket will just melt away. In central Europe, a standard single duvet measures 140 x 200 cm, so our 145 cm linen will work perfectly.
How wide should the fabric be?
Once you've found the perfect color or pattern in the weight you want, make sure that your chosen fabric comes in a good width. What if it's only 140 cm wide? Or 135? Just do a little math. Figure for 5% shrinkage and add at least a quarter inch (7 mm) seam allowance on each side. Is it enough? If you have a summer-weight duvet, you should be fine. But if you're sewing a cover for a fat, feather duvet, you'll need to choose something wider, or else add a border for width.
Getting your fabric ready
To prepare your fabric for sewing, wash it according to the guidelines given in the product detail – for linen in white or pale hues, wash warm (60°C / 140°F), for colors a bit cooler (40°C / 104°F). With printed linen, we recommend testing on a scrap first, a linen with a blue stripe that's woven in may withstand high temperatures, but a bold print could bleed.
If you think you may be boiling your sheets, test first on a scrap. Colored linen may fade; white and undyed linen won't be affected in terms of color but may shrink or get fuzzy. There's no clear-cut rule regarding shrinkage – every bolt of fabric is different, so always test your fabric first. If you are buying at Sartor, you can request a free fabric swatch and test it before buying.
Before hanging your linen out to dry, shake it out and hang it up evenly to make it easier to iron. You can also tumble dry on low. Undyed and white linen can be hung out in the sun, but colored linens should be left to dry in the shade to avoid fading.
For easier ironing, press while slightly damp.
Blends that combine linen with cotton or rayon should also be pre-washed before sewing. Linen rayon blends need cooler temperatures (no more than 40°C / 104°F). Linen silk blends should be laundered on a delicate cycle using a special detergent for silk or wool.
Caring for linen bedding
Linen bedding is really not difficult to care for. Just turn duvet covers and pillowcases inside out and wash as indicated above. You can use your machine's spin cycle without fear. If tumble drying, simply choose a gentle program.
With every wash, your linen bedding will get softer and more comfortable. If it seems to have released a little fuzz after the first wash, don't worry – the stray fibers will work loose with subsequent washes.
To line dry, always shake out your bedding and hang each piece as straight as possible to reduce wrinkling. Here's a little trick: Set the spin cycle on your washer a bit lower than usual, say 600 RPM, so your covers come out wetter – when you hang them on the line they will straighten out under their own weight, reducing wrinkling. There's no need to worry about them stretching out – linen is very sturdy and holds its shape well.
Once dry, linen duvet covers don't really have to be ironed (this is especially true of heavyweight linen). They look pretty when they're a bit rumpled. If you do choose to press them, you can set your iron nice and hot and knock yourself out using steam (be more careful with linen blends, of course).
When you're not using your linen bedding, storing it is easy too! Linen won't attract moths and it withstands mildew, so you can pull it out of the closet any time, ready to make up the bed.
Have we convinced you to make a linen duvet cover your next project?
Do you already sleep in linen?
Share your photos and insights with the Sartor community!