Seamstress, tailor, dressmaker or salon?
What do you call a person who makes or alters clothing? A seamstress, seamster, sewer or sewist? A tailor or (ack) tailoress? Dressmaker or something else? Not all seamstresses are women any more than all tailors are men. Rather than parsing words and splitting hairs over who does what, we have taken the plunge for this article and gone with the term tailor as the gender-neutral variant for this absolutely indispensable discipline.
There are any number of reasons why you might seek out the services of a tailor. One thing is pretty certain – you are looking for someone who can take your wardrobe beyond off-the-rack fashion. There are some occasions when turning to a professional for custom fitting is a no-brainer (wedding gowns, prom dresses, and other special-occasion wear). But there is also a growing trend towards quality and away from fast fashion, even for the pieces that we wear every day.
Look at the people around you, colleagues at the office, professionals you look up to. Lots of them have begun to turn to hybrid services that offer made-to-measure clothing and suits – you measure yourself or let your phone camera scan your figure, then send in your data, and a machine cuts and sews your garment. Some go for custom alterations – you order a pre-made suit and then have a fitting with a professional seamstress or tailor who alters it to fit you better.
Of course, if you've ever participated in a wedding or ordered a gown for a special event, like a formal dance or gala, then you have probably run into the salon model, where you choose a gown, order it from some far-flung factory, and then come in for a series of fittings with a seamstress who alters it to fit. (Warning: This variant may involve lots of Mimosas!)
There are also plenty of people in the cosplay community who love the whole scene but, let's be honest, don't know the first thing about sewing. They need someone reliable who can make that fourteenth-century costume happen.
Then there are the folks who just want the satisfaction of having an original piece. They are in for the whole ride and get to have a part in each decision, from choosing the cut and dithering over the fabric to the moment when they get to slip it on and wear it proudly.
Whether you want to abandon fast fashion and save the planet, need something that flatters a non-confection figure, or just want to look great, a good tailor is the key.
Choosing a seamstress or tailor
A good tailor should know their stuff – fabrics, patterns, sewing, and garment construction. That doesn't necessarily mean that they'll be on top of the latest fashion trends – fashion design is a different discipline altogether. It's not a tailor's job to give advice on trendy colors or the very latest thing. If you need full service and a complete wardrobe makeover and your tailor or salon does not offer such a service, turn to a personal stylist for help.
What a good tailor can do, however, is tell you whether the cut you've chosen will flatter your figure and what sort of material would work best for the look you're after.
If at all possible, browse through photos of completed work. Do you like their execution and style? Even though a tailor sews to the wishes of their client, their own taste always shines through in their work. Finding a tailor who is on your wavelength is ideal ­– it greatly increases the likelihood that you will be thrilled with the results.
Don't be afraid to ask questions. It's the same as when you are shopping for a hair dresser or a plumber – their attitude will tell you a lot. Personal recommendations are an excellent way of finding a good tailor. Ask your (well-groomed) friends and colleagues if they have any tips. Online reviews can also be helpful, at least up to a point – remember that poor reviews can be posted by customers who had unreasonable expectations going in or by anyone with an interest in damaging the tailor's reputation (even the competition).
Questions you might want to ask your tailor
· I saw a dress I like online (in a magazine, etc.), can you sew it for me?
If your tailor hasn't seen the dress and/or has no idea what you look like, the only right answer to this one is "maybe." A good tailor will neither turn you away nor make any promises until they see something concrete. The answer to a question like this one depends on multiple factors – your expectations, the availability of material, the complexity of the cut, and so on.
· How much will it cost?
Without concrete specifications, no tailor can give you a price. But given a general idea of what you want – photos, sketches – they should be able to give you a ballpark figure based on previous experience (e.g. "The cost of a similar pencil skirt is roughly this much plus material.") Once you've agreed on exactly what the finished garment should look like, your tailor should be able to quote you a price. This is the point at which you can expect to pay a deposit.
· How long will it take?
A good tailor will be able to tell you when the work will be done. Don't expect to have your garment overnight, and if your tailor is booked up, it might take a couple of months before they even get to your order. Any reliable tailor should set a date with you for your first consultation and at least give you an idea of when you can expect to have your first fitting. Complex orders like wedding gowns should be made with an adequate time cushion – there's no way to rush something like that in just a couple of weeks! (Salons recommend ordering ten months in advance!)
· Do I have to come in for a fitting?
No tailor worth their salt will sew without a fitting. If it's a dead simple order or you are a regular customer whose measurements they know as well as their own, they may make an exception. But even the best-prepared pattern will need to be tweaked to your figure. More demanding items, such as bridal gowns or business suits, absolutely require a fitting, and sometimes more than one.
· Do you sew for non-standard sizes?
Sewing to your measurements is what a tailor does. No tailor should ever turn a customer away because they "don't have a pattern for that." They should know how to sew for any figure – big and tall or round and small – and be able to alter a garment to accommodate a round bottom, a crooked spine, or uneven shoulders. What's more, they should also be able to tell you if a particular cut won't work for you. After all, anyone can fall in love with an outfit in a fashion magazine and form unrealistic expectations. In that case, your tailor or seamstress should be able to explain why it won't work – like that a full skirt in stiff fabric makes broad hips bigger – and offer an alternative if at all possible.
· What should I bring for the first consultation?
When you show up for your first consultation you should absolutely come armed with the knowledge of exactly what it is that you want to have made. Ask yourself ahead of time, what garment you want, for what sort of event, in what color, etc. Then your tailor can get down to brass tacks at that first meeting. You will have your measurements taken, so be sure to bring along the undergarments that you plan to wear. This is especially true for dresses that have to fit perfectly such as a prom dress or wedding gown. If you plan to wear a different brassiere than the one your tailor measured you in, the dress may not fit right.
· Do you work with silk?
Are you planning to have something sewn using silk fabric from Sartor? Feel free to ask your tailor if they have experience sewing with silk. An experienced sewer will know their silk fabrics and how to handle them. If this question spooks your tailor, look elsewhere.
What to expect from your tailor (and what not to)
For the layperson, working with beautiful fabrics and a sewing machine can sometimes seem like magic, but even a tailor is just a human being. You may find that you aren't on the same wavelength (maybe you have completely different taste), in which case, just keep looking.
The tailor has a right to refuse your order. Perhaps they don't have time or maybe they don't feel up to it. Not every tailor sews everything. Some don't do wedding gowns; others won't do alterations. A quality tailor knows how to say no when a client comes along with a request they're uncomfortable with ­– for example an unflattering cut that they can't stand behind or a rush order that would compromise their standards of quality.
A good seamstress or tailor can advise you on how to make the most of your figure, concealing weak points and exploiting strengths. Don't be shy – it's worth bringing it up!
Most tailors have at least a few photos on hand of completed models that you can browse online or in the studio. It is not usual, however, for completed sample garments to be available in the studio. They are likely only to have items that are in production and that they may not want to share with you. Likewise, some tailors have no problem welcoming you in their working studios while others won't pull back the curtain at all. Respect this.
Finally, professional tailors and seamstresses usually do not keep fabric on hand in their studios that you can choose from because material is purchased for each order individually. Some will have samplers or fabric swatches that you can use to decide what sort of fabric you want to order.
First consultation
When you head to your first consultation, take everything you have that illustrates what you want – photos you found online, your own sketches, fabric swatches. Sometimes you only need to describe what you want or demonstrate on yourself how long you want the skirt, how wide the shoulders should be, or how to shape the neckline. Most tailors will do a quick sketch right there, sometimes they have a catalog of styles or cuts that you can consult to show some elements – a skirt like that, sleeves like these. The more specific you are, the better the results. If you show up for your consultation with no idea of what you want, you should, at least, leave with one – before sewing begins, you have to settle on all of the details. If you still aren't sure what you want even after the consultation, put off the order until you have some clarity.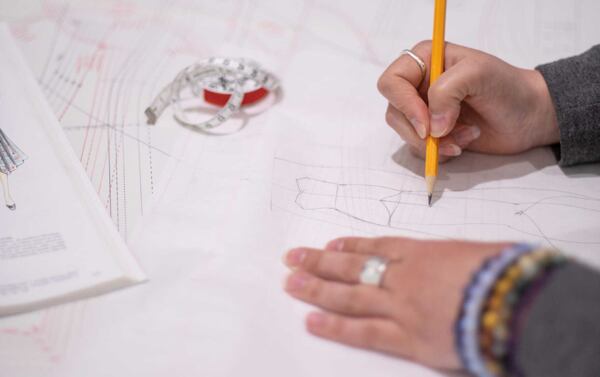 You will be measured in your underwear. Don't be shy. Professional tailors are used to seeing all sorts of figures. If you really can't stand stripping down, take along the tightest hugging, thinnest undershirt you've got. The process of measuring will vary depending on what you're having sewn, but in general it is circumferences (bust, waist, hips), lengths (from neck to waist), and widths (shoulders, back). It's never enough to measure just around your bust, waist, and hips (you're not ordering from a box store, after all). Before sewing a blouse, for example, a tailor would take at least nine measurements.
Some tailors will work on a handshake. Others may want you to sign an order sheet that shows a simple sketch of the garment to be sewn, the estimated date of completion, client information, the agreed price, and other relevant information (materials, measurements). Having a written record of what you've agreed upon can help if you have any disagreements later on.
Generally you will pay a deposit when you make your order. It is usually 30–50% of the final cost. The order is then binding for both parties; if the tailor does not ask for a deposit it might be a sign of a lack of commitment and you might find your order being constantly pushed back.
By the way, if you are pregnant and aren't showing yet, tell your tailor up front, so that they can make allowances for your inevitably changing measurements.

Purchasing fabric
If you do not yet have your fabric and you are having the garment sewn from scratch, consult with your tailor before buying. Some salons or tailors are willing to take care of fabric purchases for you while others will expect you to get it yourself. If you make your selection yourself, you'll be certain that you'll get a fabric you really like. Of course, in a perfect world, tailors would always find the time to go fabric shopping with all of their clients, but they generally don't have the capacity to do that for anything but the largest contracts, like, for example, bridal orders.
If you don't know what to choose, let your tailor be your guide. Ask them what would be best, a weave or a knit, what material, what weight, whether it should be sheer, crisp, or stretchy. If you want to buy your own buttons, zipper, lace, or other trimmings, ask for guidance. The clerk at the fabric shop will appreciate it if you come in with a detailed shopping list in hand.
Fittings
Think a professional tailor ought to be able to use your measurements to sew something that will fit right off the bat? Think again. Any good tailor will tell you that you can't go without a fitting. Even with a pageful of notes about asymmetries or posture, a fitting will still show that the cut needs to be tweaked. Sometimes you find that making a slight change to your original plans makes a piece far more flattering. At this stage it shouldn't be too late to take something in or let something out and doing so can make all the difference in the world. This is also the time when the length of sleeves and hems is adjusted.
If something seems off, announce it right away at the first fitting before it's too late to change it. Some people like to take photos during fittings (selfies in the mirror are fine) to keep track of the process.
Larger alterations can't be made in later fittings. At that stage you can change your mind about the color of your buttons, make your skirt shorter, or decide to add some lace at the neckline, but it's too late to change the cut or add length where the hem has already been trimmed. Big changes, like making the sleeves completely different (if there's even enough fabric left over), will be beyond the scope of the original order and will be charged extra.
Don't forget how important it is to come to all of your fittings with the undergarments that you'll be wearing with the item. If you are having trousers or a long skirt sewn, take along the right shoes too, so that the length can be exactly adjusted to your heels.
A tailor will guarantee to sew you the garment you agreed upon in good quality. That means it will fit, it will be well sewn, and there will be no evident defects. If the finished product looks different than you expected or something is missing (like the lining that you had agreed upon) then point it out right away and demand that the problem be addressed.
The final product
When picking up your finished garment, try it on one last time to make sure that everything is as it should be and that no additional alterations are necessary. Then all that's left is to pay the balance due and you can take it home. You will get a receipt for payment; some tailors may also give you a warranty certificate.
Various customer protection rules apply in different jurisdictions. But generally, garments that are sewn to order are not covered by the same guidelines as clothing bought off the rack. Your tailor is a contractor and your order is a contract for services. That means you are bound to pay for the work even if you decide you no longer want it (the wedding is off) and do not take delivery. This does not apply, of course, if you refuse to take delivery due to some defect, in which case you can demand a repair or agree to a discount. In most cases, disputes between tailors and their clients can be resolved amicably.
Have you got any custom-made items hanging in your closet?
What is your experience working with tailors?
Share your stories with us!