Organic textiles can pop up in places you might never expect, even at fast-fashion retailers. Maybe you've wondered just how "organic" those products really are and who guarantees that the manufacturer actually made an attempt to behave ecologically and ethically. Well, start by looking for a tag bearing the logo of a reliable, independent certification body.
gots certification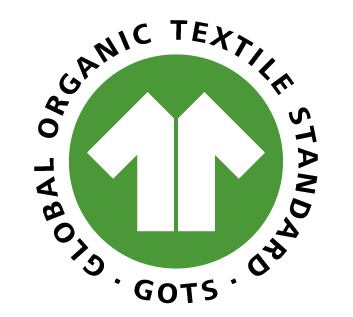 GOTS is one of the strictest standards for organic textiles. Certification requires manufacturers to fulfill criteria all down the supply chain.
The Global Organic Textile Standard (GOTS) certificate is issued by Global Standard GmbH. Based in Germany, it was established to unify diverse standards by a group of organizations involved in quality assurance for the textile industry and ecological production. GOTS is now a major standard for organic textiles and sustainable textile manufacturing.
The GOTS certificate means that the textile contains organic material and the entire production process meets set environmental and social criteria.
gots made with organic materials vs. gots organic
These two GOTS certificates both guarantee that at least some of the material is of organic origin – the difference is in the percentage. Textiles labeled "GOTS made with organic materials" must contain at least 70% organic fiber. For certification as "GOTS organic" there must be 95% organic fiber content. To be considered organic, material must be cultivated without pesticides, insecticides, herbicides, and genetic modification, in accordance with the standards of organic farming.
The GOTS system does not set its own standards for organic farming. It uses those approved by IFOAM Organics International, an independent organization that brings together reliable national standards and monitors their fulfilment.
ecological and social criteria
Aside from organic material content, GOTS also monitors production for conservation and sustainability. Manufacturing must be environmentally friendly.
It must be separate from conventional production (a single factory cannot toggle between organic and regular production)
Only approved chemicals and dyes may be used
Water must be conserved (recycling, wastewater treatment)
Chemicals used must be approved for non-toxicity and biodegradability
Production must also be socially sustainable. GOTS monitors the working and social conditions of workers. It utilizes standards set by international labor organizations and criteria for trade principles and human rights set by the United Nations.
Employment is freely chosen, not done under duress
There is freedom of association and collective bargaining for better conditions (workers may establish unions)
The workplace meets safety standards
There is no discrimination (ethnic and religious minorities, migrants)
Workers receive fair wages
the production process as a whole
GOTS rates the production process as a whole. In order for a product to achieve GOTS certification, it is not enough for it just to be made of organic cotton, or for one of the factories it passes through to fulfill ecological criteria.
Under the standard, criteria must be met at every point in the production process, from cultivating and processing the raw cotton, through spinning, weaving, and dying, to packaging and distribution. GOTS thus helps you defend yourself from greenwashing, so you don't get a product that is only "green" at first glance.
What often happens with fast fashion retailers is that they offer organic cotton t-shirts that are actually made of cotton from organic farming, but the rest of the production process takes place conventionally. What good, then, is an organic tee, if so much water has been wasted in the dying process and it has been sewn by a worker earning a miserable wage in a decrepit factory?
For fuller information on criteria and standards, see the GOTS website.
oeko-tex certification
This popular certification is issued by a Swiss association that brings together numerous independent testing institutes. It has several levels and variants for a number of different product families. The best known is its Standard 100 certificate.
Oeko-Tex Service GmbH, an association based in Switzerland, brings together neutral testing institutes in Europe and Japan to develop testing methodology and standards for the textile and leather industries. It issues several certificates with varying criteria levels – if you are looking for a fabric that fulfills a concrete set of conditions, simply look at the label. The individual standards are detailed in full on the Oeko-Tex website.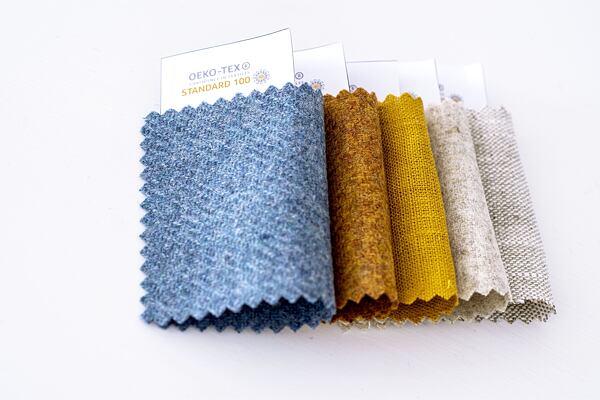 standard 100 by oeko-tex

This well-known standard applies to fabric, clothing, and domestic textiles.
Standard 100 means that the textile product has been tested for harmful substances and that these were measured at zero or below-limit amounts.
That's all this standard tells you. If it is not specifically noted that the tested textile is organic (in which case it has fulfilled additional criteria), then it's not organic. You can be certain, however, that the textile contains no traces of dangerous chemicals used in production.
For clothing, all elements of the garment are tested, not just the fabric, but any zippers, cords, or other items, including the thread used to sew it together.
The list of institutes that carry out testing for Oeko-Tex, detailed criteria, and other relevant information are available on the organization's website. The information page for the Standard 100 certificate includes a full list of conditions that must be met for certification, including an exhaustive list of chemical substances that are tested for, including heavy metals, pesticides, formaldehyde, phthalates, and solvents.
four product classes for standard 100 by oeko-tex
During testing, materials and products are evaluated according to the product class they fall under. There are four classes, and for a product to gain Standard 100 certification, it must fulfill the criteria for its class.
product class 1
Products suitable for children under three
product class 2
Articles that come into direct contact with the skin (t-shirts, underwear, also mattresses and sheets)
product class 3
Articles that have no direct contact with the skin (jackets, belts)
product class 4
Decorative products (domestic textiles such as curtains, carpets, table cloths)
If you take a good look at the tables of acceptable levels, you will see that the criteria for classes 2 through 4 are roughly the same in most cases. It's class 1 that differs significantly, with much stricter limits for harmful substances, guaranteeing materials that are safe for small children.
If you want to check the validity of the Standard 100 certificate on a product, simply open the Oeko-Tex label check page and enter the number shown on the tag. If the certificate is genuine, a detailed readout will be displayed.
other oeko-tex certificates
Oeko-Tex issues other certificates that are not as well known, but that you may run into here and there.

leather standard by oeko-tex
This is the parallel of Standard 100 certification for leather goods – leather clothing, gloves, handbags, shoes, etc. The certificate cannot be issued for items made with exotic hides (crocodile, snakeskin).
step by oeko-tex
This certificate monitors the entire production process including environmental conservation, social responsibility, quality management, working conditions. Modern consumers can look beyond harmful substances content to consider the sustainability and fairness of the whole process.
made in green by oeko-tex
This certificate is a combination of Standard 100 and STeP, or Leather Standard and STeP in the case of leather goods. Made in Green means that the product does not contain any harmful substances, but also that did no harm to the environment or people throughout its entire production process.
---
know the law – products safe for children under three
In most jurisdictions safety standards for children's clothing are regulated by law. If you are sewing clothing for children or sell fabric meant for babies and toddlers, then you must comply with current health standards.
Children's clothing cannot be harmful to health ­– it cannot irritate the skin, it cannot be dyed or printed using dangerous substances. Dyes must remain fast in the presence of perspiration and saliva because small children tend to suck on their clothes.
Check your local health guidelines for requirements for clothing, toys, and other products for children under three. Know what your responsibilities are under current public health legislation.
Health authority standards also apply for articles made of leather, vinyl, and fur.
Relevant parts of the health code will list the concrete limits and required standardized tests. You should also find information about prohibited dying agents, criteria for colorfastness, and limits on heavy metal and formaldehyde content.
Your local legislation may or may not include specific limits for other harmful substances such as pesticides. If you want to be quite certain that a product is safe for children under three or are shopping for organic and fair-trade products, look for international certification like GOTS and Standard 100 by Oeko-Tex.
declaration of conformity
When you shop for fabric and clothing online, you may find a declaration of conformity posted. This is a document where the shop declares that it truly has the certificates it claims to have for the goods so labelled and/or that goods for children meet all requirements. You may run into merchants that post their certificates online, but this is rare. There are so many certificates (each fabric, each article has its own) that it would be an awful lot of clutter on the website, not to mention the extra work of posting them all. What's more, they can contain sensitive information about suppliers that no shop owner is eager to share with the competition. All certificates, however, must be in the seller's possession, to be produced upon demand by relevant authorities.
If you cannot find a declaration of conformity when you're shopping online (posting one is voluntary), you can request if from the merchant. It should also be on display in any brick-and-mortar shop where certified goods are sold.