Brocades
Our brocades come in a range of gorgeous hues and patterns for a deluxe look in formalwear, bridal gowns, accessories, and home decor, as well as historical costuming. Their go-big-or-go-home attitude makes them popular for fantasy costumes, LARP, and cosplay too. We carry pure silk brocades with historically accurate patterns as well as silk blends, rayons, and synthetics in timeless designs. Our brocades are tightly woven, sturdy, and soft and smooth to the touch. All that remains is to choose… a refined, tone-on-tone damask, a stunning cloth of gold, or something else?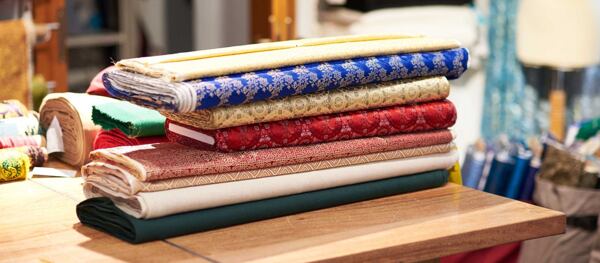 Top quality brocades
Brocades have been a luxury fabric for centuries. Our brocades are sturdy, densely woven fabrics that hold their shape well but are always fine and smooth to the touch. They're suitable for formal gowns, wedding dresses, bridal fashion, accessories, home decor, historical costumes, and antique furniture upholstery. Brocade fabrics are woven of very fine yarns, usually silk, silk-blend, polyester, or rayon. We carry brocade fabrics by the yard – jacquard fabrics, damask, cloth of gold, and brocade in a variety of colors and patterns. Brocade holds its shape yet is soft and smooth to the touch. Ours come in a range of bolt widths.