Fabrics for cosmetic pillows
A silk pillowcase is a little bit of luxury that everyone deserves. Smooth, natural silk is hypoallergenic and very gentle to your skin and hair. Silk is smooth and soft. It also prevents the spread of bacteria and mold, breathes naturally, and is wonderfully cool in summer. It is a great choice, not just for those with sensitive skin, but for anyone who wants to sleep like royalty. Wake up feeling beautiful, with your wrinkles smoothed away and your hair radiant. Our selection of silks lets you choose a fabric that will make your bedroom beautiful too. For a little help, see our post on how to choose silk for a cosmetic pillow.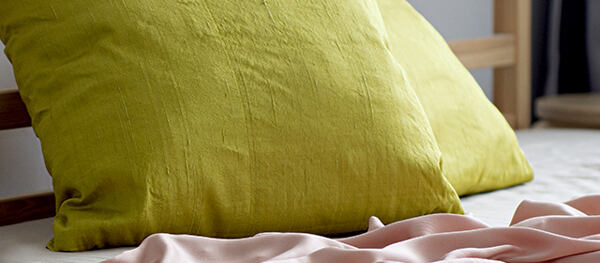 A treat for your skin
A silk pillowcase is smooth and kind to skin and hair. Choose from our mulberry silks for cosmetic pillows and sew your own pillowcase.