Historical brocades 11th century
We specialize in brocade reproduction textiles. Browse our selection of medieval brocades Our authentic reproductions are based on actual, surviving fragments of historical textiles and works by old masters that we've hunted down around the world, from the Metropolitan Museum of Art in New York City to the Victoria & Albert in London. Many of our reproductions are rarities in a technological sense as well, woven by hand using centuries-old Persian wood looms. Add authenticity to historical costumes or introduce the genius of the master weaver into your home's interior. If you have a pattern you would love to see recreated, please, get in touch with us today to discuss the possibilities!
Filter products
Sort by: Recommended: Products are listed by in ascending order. In this section, some items are set to be placed at specific positions.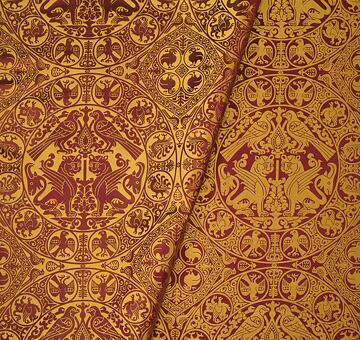 Persian 100% Silk with Winged Lions and Eagles in Roundels, crimson red
Width: 138 cm
Content: 100% silk
Weight (gsm): 103 gsm
Authentic historical patterns
Textile reproductions are our specialty. Do you want to make a costume with an accurate historical brocade? We have plenty of reproduction textiles to choose from including medieval brocade, gothic brocade, renaissance brocade, baroque brocade, rococo brocade, and other antique brocades. Our historical textiles are woven using authentic patterns from preserved textile fragments or historical patterns on garments depicted in the paintings of the old masters. We search museums the world over for inspiration for our reproduction textiles and insist upon the greatest degree of accuracy possible. Our historical brocades include Viking fabrics, Byzantine fabrics, Persian fabrics, Medieval fabrics, Gothic fabrics, Renaissance fabrics, Baroque clothing fabrics, Rococo fabrics, 18th century period fabrics, 19th century period fabrics, Regency fabrics, Oriental fabrics and more. Please note: All our reproduction textiles are protected by intellectual copyright.