Historical fabrics 14. století.15. století.16. století.17. století.18. století.19. století
You won't find these historical fabrics anywhere else. Our own exclusive, limited runs of brocade and damask reproductions are based on actual fragments of historical fabrics that we've personally hunted down in museums around the world for a selection that will gratify those who demand absolute authenticity. Many of our historical fabrics are woven by hand using centuries-old Persian looms. If you're looking for historical fabrics, you'll find authentic brocades from all periods. We also have modern brocades in contemporary or historically inspired patterns as well as a range of pure linen fabrics, real silks, quality wools, and other textiles suitable for use in re-enactment, theater and film, role-playing and period décor.
Filter products
Sort by: Recommended: Products are listed by date item was added in descending order. Out of stock products are listed at the end. In this section, some items are set to be placed at specific positions.
Silk satin, beige
36.70 $/m
in stock 26.6 m
Width: 112 cm
Content: 100% silk
Weight (gsm): 67 gsm
Silk satin, dark blue
36.70 $/m
in stock 42.4 m
Width: 111 cm
Content: 100% silk
Weight (gsm): 70 gsm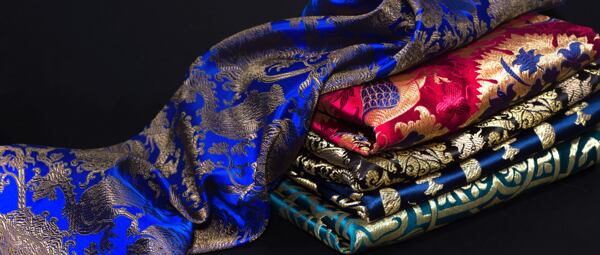 Authentic period fabrics
Our historically accurate textiles have a range of applications. We carry historical fabrics from early medieval to high medieval periods in wide range of colors and patterns. We offer also fabrics from renaissance, baroque and rococo periods and more for theater costumes, re-enactment costumes, and costumes for historical films and other productions. Our historical fabrics include accurate reproductions of historical textiles and patterns made to documentary sources, genuine linen and wool fabrics, costume silk fabrics for use in accurate costuming and accessorizing covering a range of historical periods and social classes. Our period fabrics and include Viking fabrics, Byzantine fabrics, Persian textiles, Medieval textiles, Gothic fabrics, Renaissance textiles, fabrics for Baroque styles, Rococo fabrics, reproductions of fabrics from the 18th century, 19th century period fabrics, Regency era fabrics, Oriental fabrics, and more.