19th century fabrics
We have sifted through authentic fabric samplers and fashions from the 1800s to find the best examples of Regency to Victorian era fabrics to recreate for you. Some of our Regency fabrics are hand printed by traditional woodblock technique in family workshops; the rest are produced for us by a carefully selected Bohemian manufacturer with a long tradition.
The world of fashion in the 19th century was daring and dynamic. The Regency fashions of Jane Austen's England (and the graceful Empire styles popular on the Continent) gave way to the manifold styles of the Victorian era. Trends, tastes, and silhouettes changed at a brisk pace, but most of the century's styles had one thing in common – the pretty cotton prints first imported from India in the 17th century.
Our curated selection of prints will serve you well in contemporary projects as well as period costume sewing, whether you are making an Empire dress, a Regency era gown, a Federalist era dress, a Biedermeier frock, or a Victorian day dress.
Learn more about how people dressed in the 1800s:
Filter products
Sort by: Recommended: Products are listed by product name in ascending order. Out of stock products are listed at the end. In this section, some items are set to be placed at specific positions.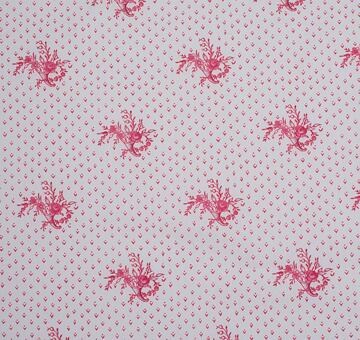 Organic cotton batiste, Regency cornucopia print, white
16,20 €/m 11,30 €/m
in stock 47 m
Width: 149 cm
Content: 100% cotton
Weight (gsm): 59 gsm
Elegant 19th century prints and more
Our premium cotton fabrics by the yard feature authentic prints from the 1800s. These fine, sturdy cotton fabrics are soft, breathable, and comfortable. Many of them are made of organic cotton fabric with GOTS certification. We select 19th century fabrics from authentic, historical samplers and have them made for you by a Bohemian manufacturer with a century-long tradition. The collection also includes fabrics hand printed in family workshops. Traditional cotton fabric first imported from India figured as lightweight fabric for Empire dresses in France, fabric for Federalist dresses in the USA, fabric for Regency dresses in England, fabric for Biedermeier dresses in Austria and Germany, and fabric for Victorian dresses too.