Silk organza fabrics
Silk organza and crepeline are sheer fabrics with an inherent, papery stiffness that won't disappear with wear, not even when exposed to water. Real silk organza is lighter, airier, and less glossy than its synthetic counterpart and is noticeably more elegant. Both silk organza and silk crepeline can be exploited for garments with daring, complex geometry and used for transparent elements like sleeves and ruffs. Organza can also add stiffness to other fine fabrics as a sturdy, feather-light lining and can be used in accessories too.
Silk organza, apricot
18.54 $/m
in stock 89.7 m
Width: 134 cm
Content: 100% silk
Weight (gsm): 19 gsm
Silk organza, light blue
18.54 $/m
in stock 13.2 m
Width: 138 cm
Content: 100% silk
Weight (gsm): 23 gsm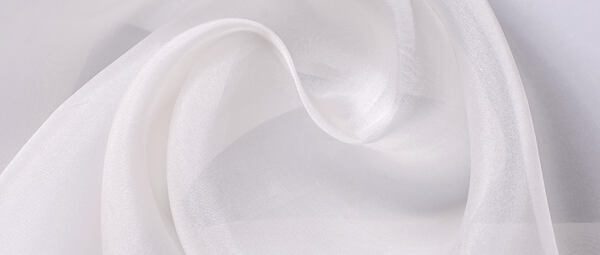 Pure mulberry silk organza
Silk organza by the yard and crepeline by the yard are light, sheer, stiff silk fabrics. Silk organza fabric and crepeline have a natural starchy feel that makes them perfect for complex garments, gathered sleeves, and skirts. Silk organza fabric by the yard is also great for making accessories and for creating petticoats and backing.