Reproduction fabrics from our traditional folk costumes
Historie českých a moravských krojů je bohatou zásobárnou krásných látek, především krojových brokátů, ale krásných tisků na bavlně. Bohatě vytkávané krojové látky využijete nejen na šití suknic, fěrtůšků a dalších součástí lidových krojů, ale i originálních moderních oděvů nebo doplňků.
Naše kolekce autentických krojových brokátů vzniká stejně jako naše historické látky – vyhledáváme tradiční látky v muzeích a soukromých sbírkách, pečlivě rekonstruujeme jejich vzory a necháváme si je utkat. Proto u každého vzoru najdete jeho podrobnou historii, a proto také naše krojové brokáty nekoupíte nikde jinde.
Vzory si vybíráme v různých regionech, ale jednou z našich srdcovek je Chodsko, odkud pro vás máme zajímavou reportáž:
Filter products
Sort by: Recommended: Products are listed by product name in ascending order. Out of stock products are listed at the end. In this section, some items are set to be placed at specific positions.
Brocade ribbon, pure silk, floral
45,70 €/m 32,00 €/m
in stock 25.3 m
Width: 11 cm
Content: 100% silk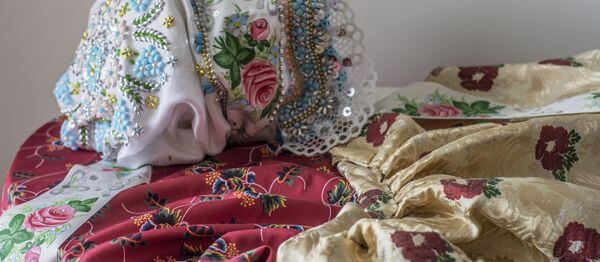 Krása tradic
Autentické krojové brokáty, které patří mezi nejkrásnější krojové látky, jsou vhodné nejen na šití krojů a krojových součástí, ale i na originální moderní oblečení nebo zajímavé interiérové doplňky. Naše krojové látky jsou tkané speciálně pro nás podle skutečných původních regionálních vzorů.