Tulle fabrics
Tulle runs the gamut from soft, vintage styles to sturdy tutu material. We stock fine tulles for veils, softer antique tulles, extra-wide tulles for skirts and stiffer tulles to holdup those princess skirts. Our color palette includes white, black, and pretty pastels suitable for romantic styles, dancewear, and bridal fashions.
Filter products
Sort by: Recommended: Products are listed by color in ascending order. Out of stock products are listed at the end. In this section, some items are set to be placed at specific positions.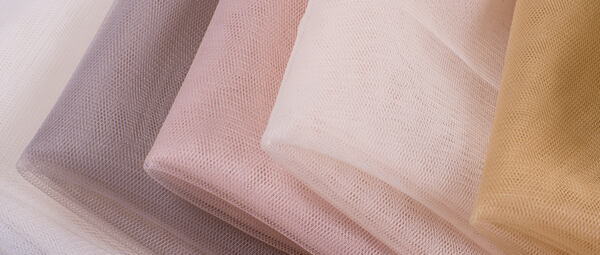 Gorgeous tulles
We carry fine tulle fabrics, semi-stiff tulle, stiff tulle, tulle for crinolines, tulle for tutus, tulle for wedding veils. Our tulle fabric by the yard comes in muted colors such as nude tulle, champagne tulle, pink tulle, ivory tulle, white tulle, and even black tulle. Choose from our fine tulle fabrics for bridal veils. If you are looking for embroidered tulle lace, see our full selection of lace fabrics.