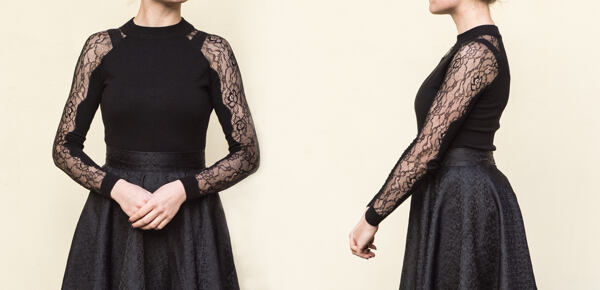 Which circle skirt pattern is right for you?
You're sketching out a new project – a kicky summer skirt, a retro pin-up dress, maybe a wedding gown – but you can't decide how wide the skirt should be. Does it have to be a full circle skirt? Is a half circle enough? What will it look like? How should it drape? And how much fabric will it take?
Types of circle skirts
Circle skirts fall into three categories
full circle
half circle
3/4 circle
To see how each option looks, I've dressed a dummy in all three options in a fabric with a lot of drape and then again in a stiffer fabric, and attached the photos below. The skirt length here is 65 cm (about 26"); it would fall just below the knee.
Half circle skirt
A half circle skirt gives you plenty of freedom – you can take long strides in it and it'll hide an ample bottom without looking too bulky. On top of that you won't need as much material and it's easy to measure and cut. This is a favorite width for underlining ruffed tulle skirts and big petticoats.
Full circle skirt
A full circle skirt is, of course, a pure classic, that you'll see in its shorter versions on hot summer days and in pin-up models with crinolines underneath. Full-length skirts are popular for wedding dresses, prom dresses, and formals. The full circle skirt does take a lot of material and you should think about the wearer's figure when deciding whether to go for it. It won't flatter a broad waistline because it tends to add volume, but it is charming on slim figures and flatters those with pear shapes because it hides the lower half and emphasizes the upper body.
3/4 circle skirt
A 3/4 circle skirt has the best of both worlds. It's one of my favorite go-to cuts, especially in the floor-length version where it looks a lot like a full circle skirt but doesn't eat up quite so much fabric. It has plenty of volume, just with fewer folds. It's a little trickier to cut though, and in some fabrics it may look a bit lopsided.
Choosing fabric for a circle skirt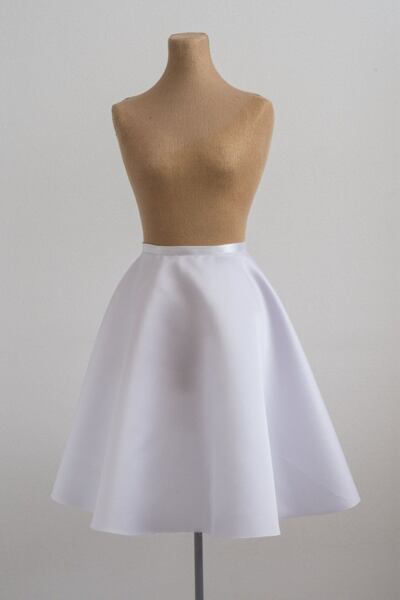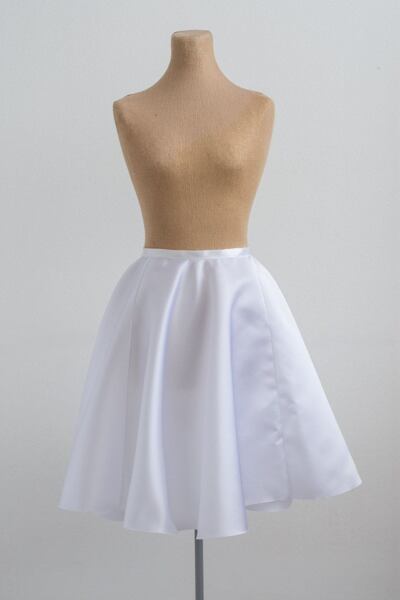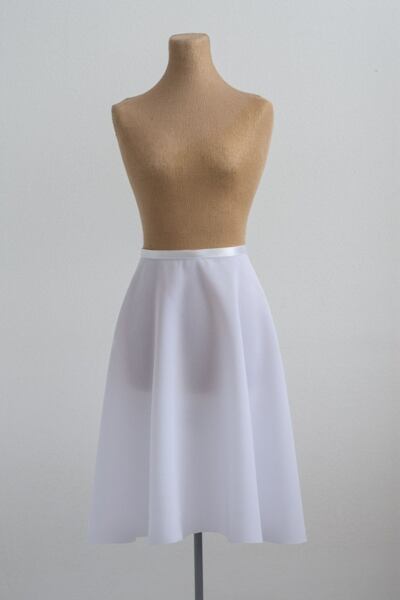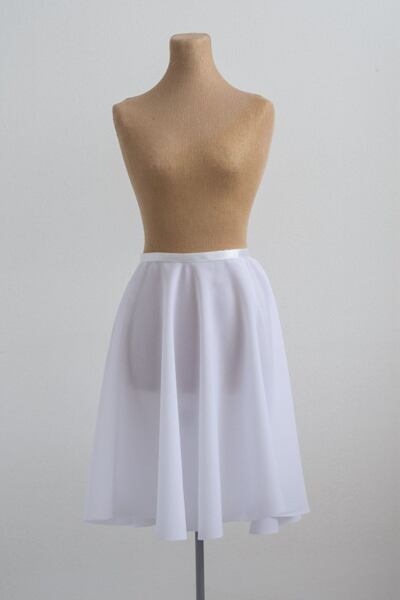 Now, take a look at the pictures. No, it's not your imagination – the full circle skirt in that last photo is kind of "pointy." It's not sloppy cutting – that's just how fabrics with a lot of drape stretch on the bias. This makes it even more important to even up the hem of your skirt after sewing – I'll show you how to do that in part two.
Slightly flowing fabrics
Something in between – If you want something in between, try habotai, voile, silk twill, noil, or linen.
Laying out and cutting a circle skirt pattern
Actually sketching the pattern for a circle skirt is really simple. It's laying it out on the fabric that's the hard part, especially if your fabric is a narrow width. The next section should make it easy for you to calculate how much fabric you'll need, but I still recommend sketching your project out on paper beforehand. Here's how I do it – I sketch my pieces at a 1:10 ratio, cut them out, and lay them on a strip of paper representing the fabric. It's a lot easier to figure out where everything goes that way than when you're crawling around on the floor working with big pattern pieces. When it comes down to it, you'll be glad you have a plan for what goes where.
I've done all the math for you to help you plan a pattern to your own measurements for each of the skirts (see the fabric calculation tables below). Pay attention to pattern layout and fabric amounts. These will vary depending on skirt type, fabric width, skirt length, and your own measurements.
Fabric width for a circle skirt pattern
The fabric amount for each skirt type in various fabric widths is shown in the table below.
140 cm or 54" – The most common fabric width in the United States is 54", which is 137 cm. Most fabrics, including cottons and linens, are available in this width. It is the easiest width to lay out for. This width was historically referred to as "double width" because fabrics used to be woven on narrower looms.
110 cm or 43" – This is the width you'll generally find natural silk fabrics in. The width won't accommodate pattern pieces for a longer skirt, so you'll have to split the pattern into multiple panels.
75 cm or 29" – This width is common for brocades. A pattern for a full circle skirt has to be divided into several panels in order to fit on this fabric. It used to be pretty common practice among home sewers to stitch together two lengths of fabric for more width before cutting; but be forewarned, you'll end up with a less professional look and your finished product will have some odd diagonal seams.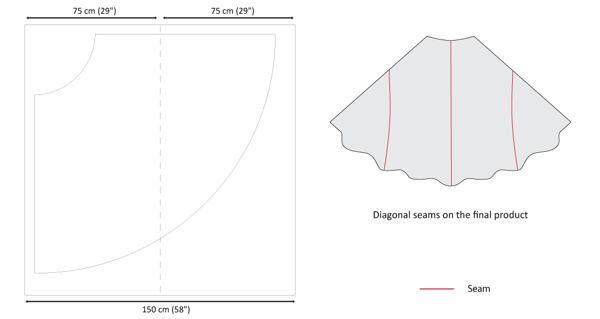 What if the pattern doesn't fit on the fabric?
You lay out your fabric and discover, to your horror, that the pattern doesn't fit. What do you do? First off, don't panic! You've got a couple of options. You can either tack on a bit of extra fabric where you need it or divide your pattern into pieces. If you choose the first option, you'll end up with a diagonal seam somewhere near the bottom of your skirt – this may not matter much if you're using a busy little print that will hide the extra seam, but for some fabrics it's a deal breaker.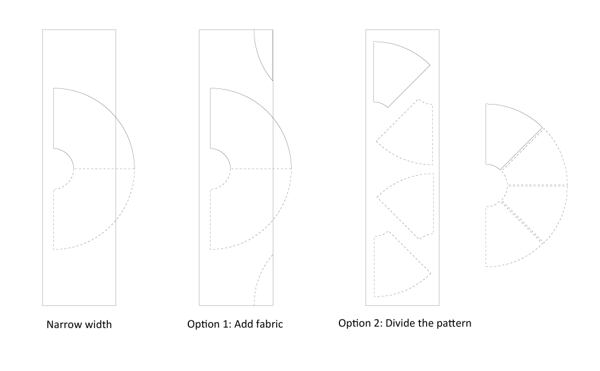 How much fabric do you need for a circle skirt?
There are a million ways to place a pattern for cutting and choosing the right one is probably the hardest part of making a circle skirt. I've done the hard part for you, testing different options to minimize cutting while respecting the rules of pattern layout. For each circle skirt pattern I've drawn up a fabric calculation table and a cutting diagram. I left a reserve for a 3 cm (1½") seam allowance and 7 cm (3") for hems. But before you even lay out your fabric, you should wash it the same way you will once the garment is finished. If the fabric shrinks, it's better that it should do so before you've measured and cut. Otherwise all of your work will be wasted.
Skirt length
For circle skirts you can't just count twice the length of the skirt plus so much for seams, especially not if you're working with a narrow width bolt. The formula changes according to skirt length and fabric width, so I've worked it all out for you (see the tables below). Skirt length plays a major role here – where a shorter skirt may only require 3 panels even for a narrow silk bolt, a longer skirt will need 8 panels and your fabric requirements will increase accordingly.
Size
The following sketches are done for a US size 8 (UK 12, EU 38) with the skirt sitting at the waistline.
Waist measurement does not play a large role here – just add 5 cm (2") of fabric per size and keep an eye of the spots in the table where the number of panels jumps. If you're on the cusp it's best to sketch out your pattern in miniature to make quite sure you'll fit onto your fabric.
If you wear your skirt a bit lower, the waistline circumference will increase, as will the whole pattern, so you won't fit into the table. Here too it's best to sketch out your pattern in miniature beforehand.
Printed and patterned fabrics
A simple print is best for circle skirts, one that looks okay sideways and upside down, because in most cases the print will be turned by 90 degrees in the front while in the back it will be right side up on one side and upside down on the other.
If the print demands it, you can divide the skirt into several panels. Even then, you'll find that there are places where it will lie at an angle and where the print just won't line up.
In the table I calculated that the panels would sit right side up and upside down as shown in the sketch. If your fabric is wide enough to fit all of your panels in one direction, go for it, but it will require more fabric.
If lining up the pattern is important to you, include some reserve. I usually leave a reserve of at least twice the height of the print motif.
Central seam
You'll save some fabric if you're willing to include a central seam at the front of the skirt. If you want to avoid it, you'll have to accept some fabric loss, in some cases as much as a full skirt length. Please take note that the fabric calculation table doesn't include this additional reserve.
Waistband and other elements
I've built some wiggle room into the table that should leave enough fabric for the waistband, but it may be best to include 10 cm (4") extra for this purpose, just to be sure. If you want to include a yoke, pockets, or any other details, remember to add extra fabric to your calculation.
Half circle skirt pattern and instructions
Making the pattern for a half circle skirt is easy. Measure your waistline. Now break out your calculator and divide your waistline by 3.14 to get a working waist radius of r.
r = waistline ÷ 3.14
Now draw a quarter circle with the radius r. Then add the desired skirt length and from the same point draw another quarter circle with the radius r + skirt length.
For 140 cm or 54" bolt width – This one is simple. For skirt lengths of up to 110 cm (44"), you'll get by with a classic two-panel pattern with a central front seam. If you don't want a front seam, cut a single half circle instead of two quarter circles, but this requires and extra 30 cm (about 12") of fabric.
You could also place the zip at the side, then your seams will move to the side and you'll have a diagonal in front and back, which can look quite nice.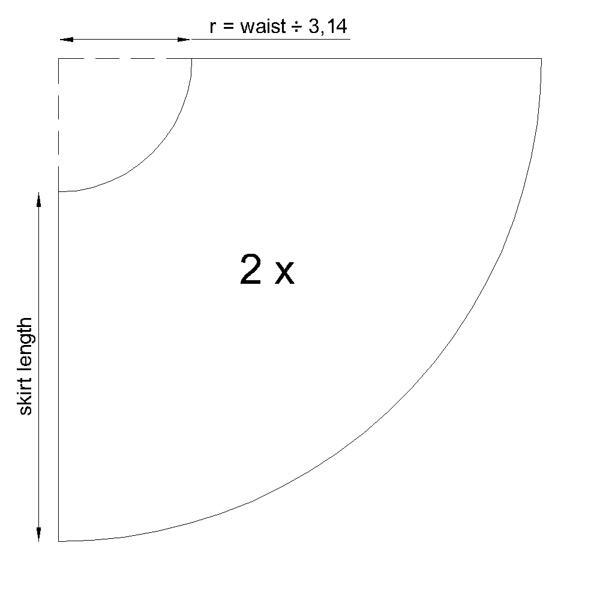 For 110 cm or 43" bolt width – Short and mid length skirts to 80 cm (32") will fit in two panels. Anything longer will have to be cut in four panels. Don't bow to the temptation to place one of your pattern pieces "backwards" in that inviting empty space on the placement diagram; if you were to do so you'd end up sewing together a straight grain panel with a bias panel, resulting in ugly ripples on one side. (They'll show up sooner or later with laundering.)
The effect is even worse with lustrous fabrics like satin where the neighboring panels would reflect the light differently creating the illusion that one is bright and shiny while the other is duller and darker. On a historical note, skirts were sewn this way intentionally in the Edwardian era to achieve a balanced drape effect where the bias had a counterpoint in the straight grain piece.
If you're using a fabric that's the same front and back such as a plain linen, habotai, crêpe de Chine, or dupioni, then you're in the clear because all you have to do is turn your piece over and your grain will line up, like magic.
For 75 cm or 29" bolt width – For skirts up to 70 cm (27½") in length you can use four panels. For anything longer, you'll have to use eight panels.
---
---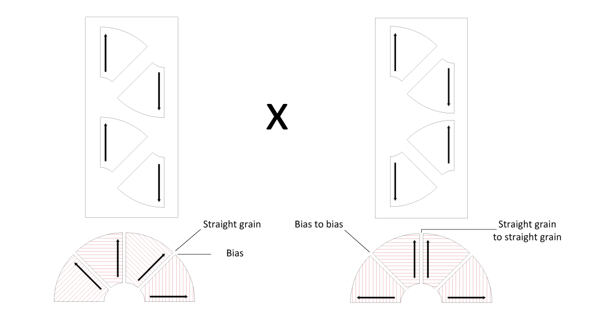 ---
---
Three quarter circle skirt pattern and instructions
The interesting thing about this skirt is that it really doesn't save you as much fabric as you'd imagine in comparison to a full circle skirt, but you will have something left over for your scrap drawer. Also, you have two nice front seams along the sides. Calculate the waist radius by multiplying your waistline by 0.21. (If you have a 29" waist: 29 x 0.21 = about 6")
You will cut three panels using this pattern. For narrower fabric widths, divide it into 6 panels or 12 panels.
For 140 cm or 54" bolt width – This pattern will fit easily in three panels. Be forewarned – don't draw a quarter circle panel and a half circle panel! What you want is a seam in the back to hide the zipper in. The front panel will lie nice and flat with no central seam while the sides will stand out a bit. You may run into trouble if you're working with a fabric that has a different give along the grain and across the grain, because then you'll have a visibly different drape on the right and left front seams.
For 110 cm or 43" bolt width – Skirts longer than 90 cm (36") will have to be divided into 6 panels. That will give you a seam down the front center. If you want to keep to the convention of attaching straight grain to straight grain, then you'll need an additional length of fabric. To save you that, I've calculated that the side panels will join straight grain to bias. If your fabric is the same front and back, it doesn't matter at all – just flip it over to line up your grain.
For 75 cm or 29" bolt width – In this scenario length matters. A short skirt will fit with three panels, mid length with six, and a long skirt with twelve.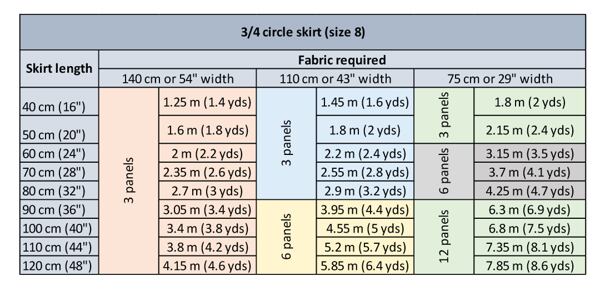 ---
---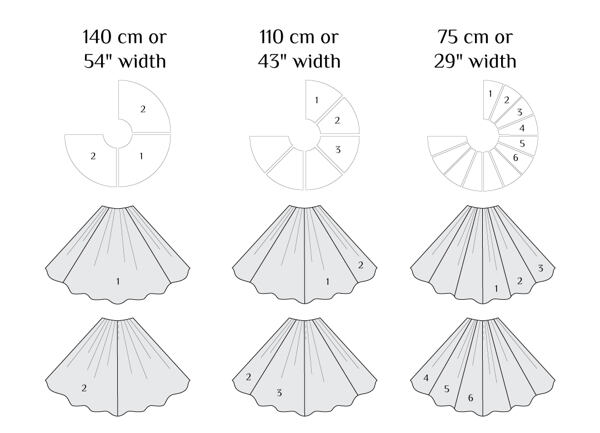 ---
Full circle skirt pattern and instructions
To calculate the waist radius for a full circle skirt we'll use a little elementary school geometry. The circumference (your waistline) equals 2πr. Of course you remember that π = 3.14. So, to calculate the waist radius, divide your waistline measurement by 3.14 and again by 2.
r = waistline ÷ 6.28
You'll need four panels; each is a quarter circle.
Naturally, a full circle skirt demands the most fabric and for fabrics that come in narrow bolt widths, you'll have to divide the pattern into more panels – sixteen for brocades.
For 140 cm or 54" bolt width – A classic circle skirt has three panels – the front panel is cut double wide so that it won't have a seam down the middle. Since the waist radius is smaller, three panels will fit onto your fabric even for lengths up to 120 cm (48"), unlike the half circle skirt.
For 110 cm or 43" bolt width – Skirts longer than 90 cm (36") will have to be divided into eight panels. Just divide your quarter circle pattern in half.
For 75 cm or 29" bolt width – A short skirt up to 50 cm (20") will fit as three panels; mid length skirts will need eight; long skirts 16. That does seem kind of crazy L and I have to admit that for full-length brocade skirts I'd consider using the tack-it-together method I described above.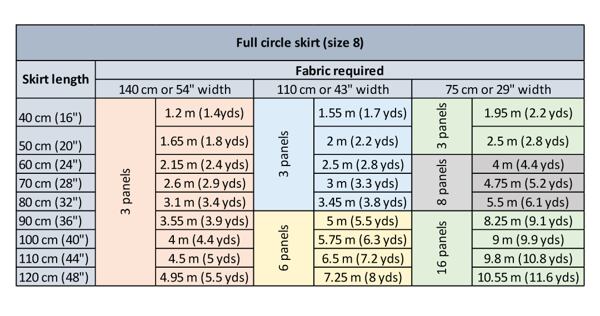 ---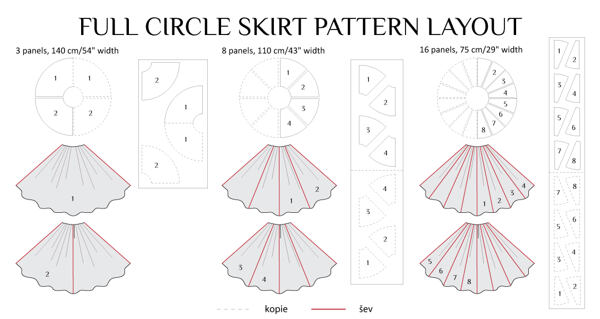 ---
Had enough? Phew… me too! The good news is that part two of this tutorial, where I show you how to sew it all together, will be a cake walk in comparison.
Choosing a fabric for your circle skirt
Fabrics with lots of drape
These flowing fabrics are perfect for a circle skirt that drapes in elegant folds.
Fabrics with moderate drape
These fabrics drape in gentle folds for a middle road between a flowing skirt and a stiffer one
Stiffer fabrics
For a circle skirt that holds its shape, choose a stiffer fabric