Silk habotai fabrics and pongee silks
Habotai and pongee are what most people imagine when they think of silk. Lightweight fabrics in a plain weave, they excel as linings and for use in accessories like neck scarves and bows. Pongee is the lighter of the two. Both are quite sheer (especially in pale tones), with a nice drape and a subtle, silky sheen. They make wonderful, breathable linings but also feature well as the fashion fabric for blouses, tunics, and dresses. These fabrics are just the thing for scarves and kerchiefs.
Filter products
Sort by: Recommended: Products are listed by in ascending order. In this section, some items are set to be placed at specific positions.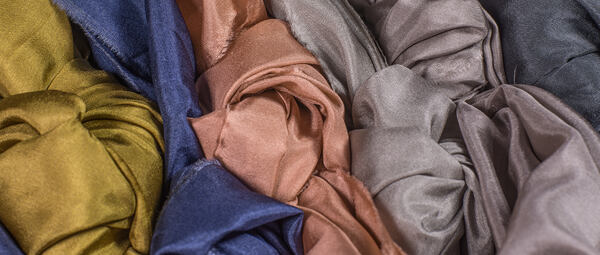 Pure mulberry silk habotai
Habotai silks and pongee silks are lightweight fabrics made of real, natural silk. They are our most popular silk linings. Our silk habotai fabric by the yard can be used on its own to sew blouses, tunics, and dresses. Silk pongee scarves and habotai silk scarves are absolute classics. Browse our selection of silk habotai fabric by the yard.