What is ramie?
Ramie (Boehmeria nivea) is an unassuming member of the nettle family found mostly in China. Unlike its European cousin, the common nettle, it has no sting. The stalks are harvested and then processed to make yarn, much as flax is retted to make linen. In fact, these two plant-based fabrics are similar in many ways.
Properties of ramie
In comparison with linen, ramie has a fine hand and a slight silky sheen. The quality of ramie fabric depends on how it was processed. It can be either softer or stiffer than linen. Repeated laundering will soften it and enhance its shine.
Ramie dyes very well and is easy to color at home using any cotton dye.
Ramie is quite sturdy. Like linen, it's about twice as strong as cotton. It retains its durability even when wet, so it stands up well to washing, wringing, and hanging out to dry without getting damaged or stretched out of shape.
One weakness of ramie is its lower abrasion resistance when dry. In areas where it is subject to greater stress (the inner sides of pants legs, that spot where your handbag grazes your side) it may fuzz or pill slightly. Here, a lot depends on the specific fabric – whether it's pure ramie or a ramie blend, the weave, how it was processed. If you'd like a swatch of our ramie fabrics for testing, we'll be happy to send you a free sample.
Ramie naturally withstands bacteria and mildew – if you leave a wad of damp clothes lying around in a plastic bag, the ramie won't get as musty as the cotton.
Ramie is extremely absorbent and feels dry longer. It has 20% absorbency, whereas linen has 30% and cotton only 8%. Clothing made of ramie will stay noticeably comfortable longer on hot, humid days. On top of that, ramie is quick drying, so you can see that it's an excellent choice for cool, summer garments.
What to sew from ramie
There are so many things you can use ramie for. Most ramie fabrics are plain weaves or twills. Sometimes ramie is combined with linen or cotton and these blends generally share the overall qualities of ramie (after all, they're all plant-based materials).
Clothes
Casual pants
Skirts
Dresses
Tunics
Shirts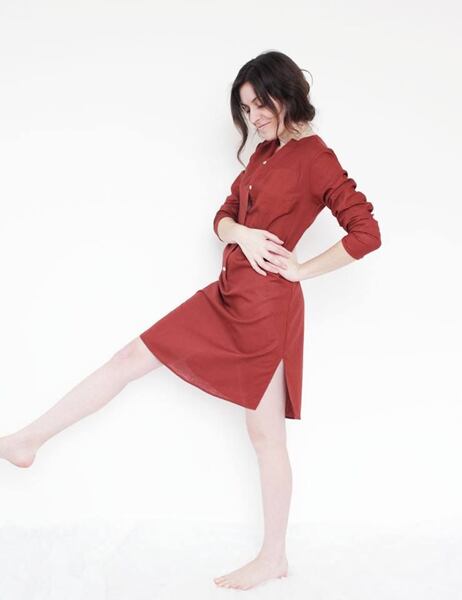 Home decor
Curtains
Pillowcases
Tablecloths
Place mats
Dish towels
Bags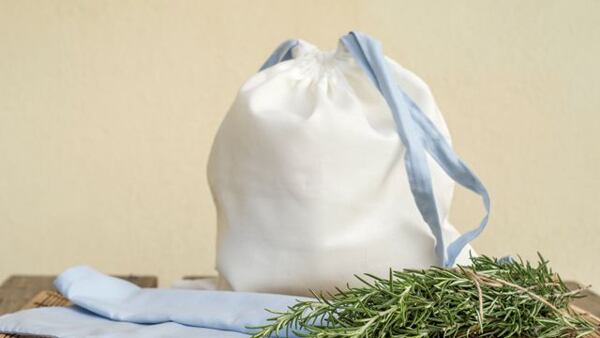 Ramie fabrics are a wonderful choice for casual, summer clothing — pants, skirts, dresses, tunics, tops. Ramie fabrics in a fine, plain weave at about 100 gsm have a moderate drape and are easy to work with. Light, and supple, they are not so well suited for more complex tailored items, where a heavier weight or an ordinary linen might be a better choice. For lining a ramie garment, reach for a lightweight, natural material like habotai, pongee, or voile that will maintain breathability.
Ramie will also find applications in interior decor, where it works well for pillowcases and curtains as well as small household items like absorbent dish towels and place mats that can withstand washing at high temperatures.
Ramie fabric care
Care for ramie as you would a lightweight linen fabric: Machine wash warm (30–40°C) on a regular program with ordinary detergent. Undyed ramie can be washed in hot water (up to 60°C). You can bleach ramie with either chlorine or peroxide formulations just as for cotton. Ramie can be spun dry at high rotations.
Hang ramie to dry or machine dry (there's little point in laying it flat to dry, as wet ramie won't stretch out of shape on the line anyway). Machine drying may bring out a slight fuzz. Avoid drying colored ramie fabrics in direct sunlight to prevent fading.
Ramie can be ironed on high settings (cotton/linen). It can also withstand steaming, as well as pressing through a damp cloth. Press from the back, if possible, to avoid "polishing" any seam areas.
Interesting facts about ramie
Ramie cultivation and production has an exceedingly long tradition in Korea and Japan – particularly in Korea's Hansan region and in the Uonuma region, Niigira prefecture, Japan. UNESCO has included the traditional process of ramie production in Uonuma on its list of the Intangible Cultural Heritage of Humanity. The process is very similar in both countries. Ramie fiber is split from the stalk of the plant and twisted into threads that are then used to weave fabric. The fabric is washed in hot water, softened by massaging with the feet, and then laid out on the snow to bleach in the sun. In Korea, the traditional ramie fabric is called mosi and they say that it is "as white as snow, as delicate as dragonfly wings."
The barong tagalog, the traditional, embroidered shirt for men in the Philippines, is usually made of silk or ramie. These fibers have taken the place of the traditional piña, a special fabric made from pineapple bast.
Ramie fabrics are relatively hard to come by because their production is so demanding. The bast fiber is stripped from the stalk, much as with flax, but the whole process takes longer than for linen and is more labor intensive. The fibers are fairly brittle, so they're hard to spin, resulting in more waste (the byproduct can be used in paper production).
Though ramie is related to the European stinging nettle, it does not grow in Europe – the climate does not suit it. Ramie fabrics are exported from China, Taiwan, the Philippines, and Brazil.
There's every reason to believe that fabric was once made from the common stinging nettle in Europe too. You may luck out and find this folk textile for sale somewhere. It is similar to linen or hemp fabric with one difference – it has a warming, rather than a cooling, effect.
Extract from ramie leaves has its place in Vietnamese cuisine. It is used, for example, to color and flavor bánh gai cakes.
Ramie has been used as a textile since ancient times. It is thought that the Egyptians used linen and ramie in wrapping mummies.
Interested in ramie?
Have you got any ramie at home?
Share your experiences and photos with the Sartor community!