Calculating fabric weight
First off, let's get a few things straight. What exactly is being weighed here and what units are we talking about? The two questions actually go together. Fabric weight is most often given in grams per square meter (g/m2 or gsm) or in ounces per square yard (oz), depending upon whether you use the metric or imperial system of measurement. Grams per square meter is simply the weight, in grams, of a piece of cloth that is one meter long and one meter wide. Of course, fabric isn't sold in square meters, but in linear meters (or yards) with varying widths. Note the difference.
All you need if you want to determine fabric weight at home is a kitchen scale. If you happen to own a laboratory scale you can do your measurement using a small piece of fabric.
Converting metric to imperial (and vice versa)
If you are used to purchasing fabric in North America or Great Britain, you may be more familiar with fabric weight expressed in ounces. To convert to metric, just multiply the number by 33.906:
1 oz/yd2 = 33,906 g/m2
We use grams per square meter (g/m2). Converting to ounces is simple. All you have to do is multiply by 0.0295.
1 g/m2 = 0.029 oz/yd2
You can't always trust the tag
Here at Sartor we keep a careful eye on fabric weights. We guarantee that you won't have any unpleasant surprises when you unpack your fabric at home because we weigh everything ourselves before offering it for sale. A thorough control of all parameters for any new product is a matter of course for us. The same may not be the case with other merchants.
In our experience, the actual fabric weight can differ from the declared fabric weight from the manufacturer by as much as 30 percent! So take the numbers you see advertised online or in other shops with a grain of salt. We live by the motto "it never hurts to double-check."
What's heavier, a pound of feathers or a pound of lead?
When considering fabric weight, it's important to realize that some materials are just heavier than others. You should especially keep this in mind for silk, which is extraordinarily light. There's not much point in comparing fabric weight across different materials. A heavy, luxurious silk fabric – like duchesse or crêpe marocain – weighs as much as a light to medium linen or cotton.
Of all the materials out there, silk is the lightest by far, followed by wool and cashmere. It may seem strange to think of wool as a light material when it's used for cozy winter clothing, but wool and most other protein-based fibers actually weigh very little by volume. That's why a polyester peacoat will weigh you down while one made of pure wool is light in comparison. Natural, plant-based materials like cotton and linen fall somewhere in the middle. They are followed by rayon and its many iterations like Tencel, modal, and cupro. The heavyweights of the lot are synthetic fibers such as polyester. It's one more way that synthetic satin falls short of the real thing… silk's unique haptic appeal aside (how it looks and feels), a dress made of silk satin is light as a spring breeze whereas a polyester satin dress not only won't let the breeze through, it's so much heavier that it may hardly budge when that breeze wafts past.
Natural silk is so off the charts that it even has its own measurement system. Fabric weight for silk is measured using a traditional Japanese unit, the momme.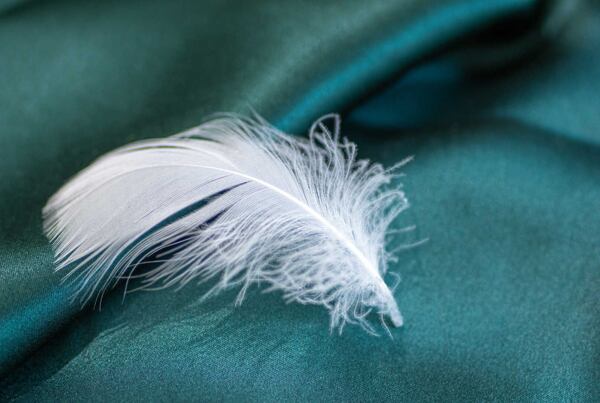 What can fabric weight tell you?
Material
For experienced buyers, fabric weight is the first clue as to whether a product is pure wool or silk, a blend, or a synthetic – and all without doing a burn test. (We write about the burn test in our article on how to tell real silk.) Synthetics are simply heavier. Next time you pass a souvenir stand selling "genuine" cashmere scarves, pick one up and weigh it in your hands… then come by our shop and try the same with the real thing. The fact that the ones they sell in the street are so much heavier is a dead giveaway that the only cashmere they contain is the word on the tag.
Uses
Those who know their fabric will tell you that the optimal silk fabric for a dress would weigh 80 g/m2 and up, whereas rayon would be around 120 g/m2 and polyester up to 150 g/m2. Likewise, for a billowy, diaphanous wedding veil you might use a silk of 20 g/m2 or a polyester imitation at 70 g/m2.
A cotton batiste for a blouse should weigh roughly 90 g/m2, a light linen up to 140 g/m2, or a classic silk charmeuse or crepe around 70 g/m2.
Knowledge is power
As you see, fabric weight goes hand in hand with textile content. With a little knowledge, you can make an educated guess about whether the "silky" fabric you saw on eBay is really silk (around 70 g/m2) or just a pretty imposter (like polyester satin, roughly 140 g/m2). That unassuming little number can save you a load of heartache if you know how to read it.
When shopping online, fabric weight can also be an important indicator of whether the cloth you're considering will serve the purpose you have in mind. Few online merchants have such thorough product descriptions as Sartor. Some sellers don't even make much of an effort to name their fabrics properly so you may be left guessing, with only a photograph and the fabric weight to go by. If you know the material and the weight, you can get a pretty good idea of where the fabric falls in the scope of things and whether it would be better suited for a shirt, a suit, or an overcoat.
Table of fabric weights
If the cipher in the fabric weight column still doesn't say much to you, don't worry. As you continue to work with textiles this knowledge will soon become second nature. If you are shopping for material to have something professionally made, your seamstress or tailor can point you in the right direction. And you can always ask us. Or consult the handy table below. To keep things simple, we've listed the most common garment fabrics and their weights.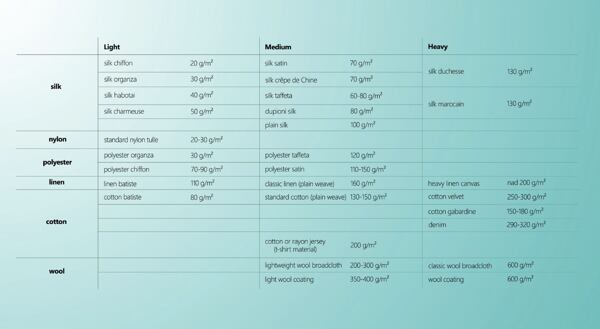 Do you ever look at fabric weight?
Is it a factor when you're shopping?
Leave a note in our comments!