I remember my first time. There I stood in front of a huge rack of sewing thread, all neatly arranged in colored spools. And I had no idea where to start. Did I need cotton thread for cotton fabric? How thick can a fabric be before you need a thicker thread?
There are so many brands, and so many types of thread out there. How do you choose without losing your head? Relax. It's simple. You already know how to choose the right needle for your machine. Here, then, are the ABCs of thread.
Thread brands
There's no better place to start than the beginning. So, the first thing you notice when you walk into a fabric shop looking for thread will be the manufacturer names on the display cases.
Amann (makes Aspo, Mettler, Belfil) – a Czech brand
Ariadna
Gütermann – a German brand
Madeira (known for embroidery floss)
Hagal (makes Unipoly)
DMC
Coats
Not all of these brands may be available in your area.
It makes very little difference which brand you choose. Any of the big names will serve you well.
The thing to avoid is cheap, no-name thread (like those kits with a dozen spools for a dollar). The success of your work stands on good quality thread. Pinching pennies here will only give you a headache later.
Thread types
Types of thread differ mainly in the material they are made from. This influences other properties, like strength and elasticity, and also affects how bright they are and how well they take dye. While "universal" thread can handle most scenarios, there may be times when a special thread is the better choice.
The vast majority of thread out there is made of polyester (PES for short). While I don't often sew with polyester fabrics, polyester thread is usually a good choice.
Polyester thread is smooth, strong, absolutely regular, and requires no special skills. It works in all home sewing machines.
Also, it holds up to years of wearing and washing without shrinking.
You can sew any kind of fabric with polyester thread, including silk. Something to keep in mind, though, is that if you plan to dye your sewn item, polyester thread will not take the color. So choose a thread color to match the final dye result or choose a thread made of the same material as the fabric.
Except for that, polyester is the all-purpose sewing thread you will probably use most often.
---
Threads made of other materials are not suitable for universal use; each is best for a specific application.
Cotton thread can be used for both hand and machine sewing, but for machine sewing choose a cotton thread that has been specially treated (this makes it softer, smoother, so it runs through the machine better).
Cotton is most often used for quilting and patchwork, but it is also useful for making items that you want to dye or batik afterwards. This is because polyester thread does not take dye.
Linen thread is used largely for hand sewing. It is the popular choice when it comes to sewing historical period costumes where authenticity is important.
Linen is the traditional thread used for making bobbin lace, sewn lace, and some types of needlework.
Silk thread is sometimes used for sewing silk (although polyester thread is absolutely suitable for this too). Heavier silk thread, sometimes called buttonhole twist silk, can be used for decorative stitching and for hand sewing buttonholes.
Another reason to choose silk thread may be if you want to maintain authenticity for a period costume or if you plan to dye a finished silk garment.
Polyester thread does not take dye at all and thread made of another natural material may come out a different shade.
There is also silk embroidery floss, used for the delicate needle painting technique in embroidery. Floss, however, cannot be used for sewing.
Elastic thread made of polymers (Maraflex, Seraflex) are used to sew knit fabrics on a sewing machine. Elastic thread is stretchy, strong, and durable.
Wooly nylon thread, which is also elastic, differs from ordinary elastic thread. Stores do stock it, and it can be easy to confuse the two. This thread is thicker, with a sort of soft, fuzzy appearance. It is not often used in day-to-day sewing.
Wooly nylon thread is used on sergers for sewing and hemming very stretchy fabrics such as those used in swimwear and sportswear.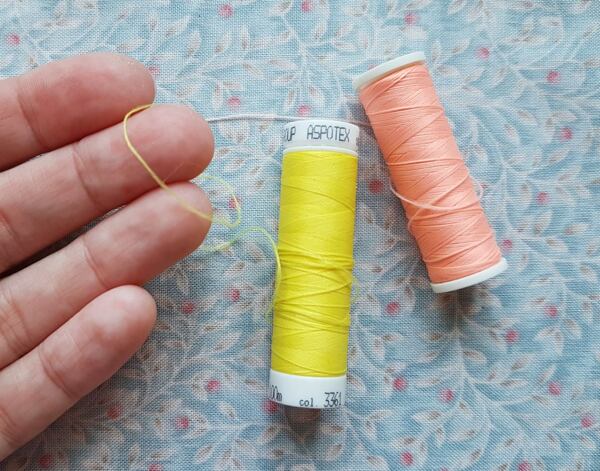 Shiny rayon (or viscose) thread is sold for machine embroidery. It calls for a special bobbin thread.
Invisible thread is a clear, single-filament sewing thread made of nylon that looks like a very fine fishing line. It is used for "invisible" sewing. You may run into it for quilting or for sewing embellishments.
Metallic threads are made to look like metal – sometimes they actually contain metallic filaments, sometimes just some imitation. They are used for decorative stitching and embroidery. Some can be used for machine sewing, however, they do require a special needle.
Thread labeling
Every spool of thread carries markings, most of which are self-explanatory – the material the thread is made of, the color number, and the yardage for example. Then there's the tex value, which tells you how heavy the thread is.
Thread weight
A thread's tex number tells you how heavy, or fine, it is. The higher the tex number, the heavier the thread.
Most ordinary sewers don't need to go deeper. The main thing is to know what kind of needle goes with your thread – you can find this in the manufacturer's documentation or rely on your own past experience (or our guide to sewing machine needles).
For example, visit the page for Gütermann Sew-all universal sewing thread – everything is spelled out, from what projects this thread is best for to what size needle should be used.
What does tex mean?
Tex is a unit of thread weight (not just for sewing thread, but also for the yarn used to make fabric) that tells you how many grams one kilometer of thread weighs. If you measure out one kilometer of Aspo 120 thread with a value of 28 tex, it would weigh exactly 28 grams.
Thread weight can be measured in other units too:
Den (denier) tells you how many grams 9,000 meters of thread weighs
NeL, an obsolete unit once used to measure linen thread, tells you how many 300-yard lengths make up a pound of thread
Thread weight can make a difference in hand work. For example, lace makers working in linen rely on it, which is why we have all our linen threads labelled accordingly.
the best thread for sewing your clothes
The choice of thread ultimately depends on the type of garment you're making and how much stress the seams will bear. If working with very heavy fabric, adjust the thickness of the thread accordingly. If planning to dye the garment after sewing or if making an authentic period costume, choose your thread type with that in mind.
Most often you will choose from three basic thread types (for a complete overview, see the comparison table at the end of the article).
You can usually get away with just these three...
polyester all purpose thread
Universal sewing thread is polyester thread of a thickness that suits most materials and most machines.
It is good for almost anything you might throw at it:
Lightweight silk blouses
Dresses, formal and casual
Knit tees
Trousers and skirts
Windbreakers and winter jackets
All sorts of household items, from bed linens and curtains to tablecloths and napkins
Stronger sewing thread is used wherever you want to reinforce seams that may be stressed. For home sewing, this usually means jeans made out of classic, heavy denim. (The finer denim fabrics used in some slacks, skirts, and dresses, can be sewn with a regular universal thread.)
Extra strong thread is generally made of polyester or sometimes from a polyester cotton blend.
A pair of jeans, by the way, not only requires extra strong thread, but a different needle too, usually a No. 90–110.
Extra strong thread is used for
Denim
Backpacks and bags
Hammocks
Work overalls and jumpsuits
Figure-shaping corsets
Extra fine thread is used for hemming thin fabrics, discreetly attaching facing and bias strips, sewing on lace appliqué, and similar delicate work.
It is not suitable for seams that have to withstand ordinary stress.
It too is usually made of polyester, sometimes of silk.
For extra fine thread, use a No. 60–70 machine needle.
Sewing thread chart
type
Name
Use

Universal sewing thread

polyester

Amann Aspo

Amann Belfil-S

Mettler Seralon

Gütermann Sew-all

Hagal Unipoly

For most sewing and most materials (synthetic and natural) from lightweight (chiffon, organza) to heavy (winter coats)

Hand and machine sewing

Usually takes No. 70–90 needles

Extra strong sewing thread

polyester

Gütermann Extra Strong

Hagal Unipoly Jeans

Mettler Extra Stark

For denim, backpacks, work overalls

Hand and machine sewing

Universal or jeans needles, No. 90–120

Extra fine sewing thread

polyester, silk

Gütermann M220

Mettler Amanda

For hemming thin fabrics and delicate work

Hand and machine sewing

No. 60–70 needles

Top stitch thread

polyester

Gütermann Top Stitch

Gütermann Denim

Mettler Seralon 30

For top stitching (decoration) of seams on denim and similar materials

Hand and machine sewing

No. 90–120 needles

Buttonhole thread

polyester, silk

Gütermann Silk R

Mettler Seralon 30

For buttonholes, decorative stitching, and embroidery

Hand sewing

Elastic thread for knits

polymers

Gütermann Maraflex

Mettler Seraflex

Mez Flex

For sewing knits and jerseys on a home sewing machine

Machine sewing

No. 70–80 stretch, superstretch, jersey needles