There's probably a dry cleaner in every town – sometimes it seems like they're on every corner – but not all of them are equipped to take expert care of delicate garments. Places that do a volume in button-down work shirts with an occasional leather jacket thrown in may not have much experience with specialty items and unusual materials. What to do?
Delicate garments (like, for example, your silk dress, a pair of wool flannel pants, or an acetate blouse) probably shouldn't be entrusted to pop-ups in shopping malls. Items like these get the best care in the hands of an experienced professional who knows their materials, how to deal with various stains, and last but not least how to properly press your garment. Shiny, modern equipment is no replacement for know-how and experience.
How to start looking for a dry cleaner
Start your search by asking friends and colleagues for their recommendations. Most professionals who dress for the office will have a favorite cleaner.
If you really are on your own, get online and search for cleaners in your area. Look at their customer reviews and notice how they answer customer questions. Do they seem to know what's what? You might also hit the pavement.
Visit the cleaners in your neighborhood and ask if they treat delicate garments (be specific). Stay away from places where you can't get a straight answer or the staff doesn't seem to have a clue. Do they post a list of items that they accept for cleaning? A cleaner with a wider range of services may have more experience. Do they have an expert on site who can identify and treat stains? Don't be afraid to ask.
5 steps to identify the best dry cleaner around
Do they clean silk, wool and lace (usual materials of delicate garments)?
Do they check the content labels on your garment? You might also ask if they check to make sure that the content matches what's on the tag.
Do they accept garments without care labels.
Do they look over the garment with you to identify any stains or especially delicate areas? Do they talk with you about how they'll clean it?
Do they guarantee not to damage the garment?
The textile tags on a garment are more important than you may realize. One Sartor customer had a silk dress ruined when she took it to the cleaners. Even though she had informed the clerk that the dress was made of silk when handing it over, that information never got to the person who actually cleaned the piece. The dress didn't have a tag, and it was thrown in with everything else to be wet washed. The silk was ruined, of course. It crinkled and lost its sheen. But since the garment didn't have a tag, the customer was unable to claim damages.
If your garment doesn't have a tag (or the tag is illegible), you can get tags in our shop – we carry textile tags for silk that you can simply sew into the seam before taking your garment to the cleaner. Better safe than sorry.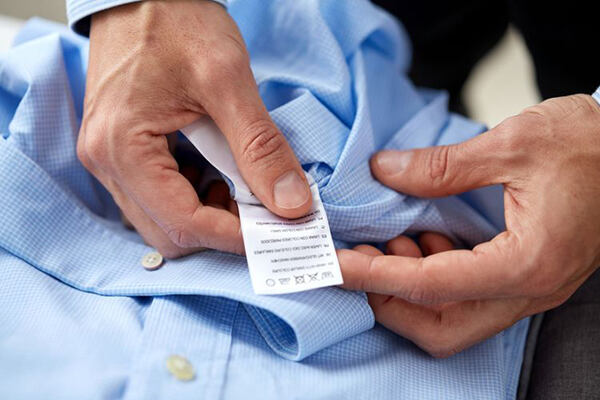 How to tell if a garment has to be dry cleaned
Tailored silk dress such as this beauty from Simona Toskova deserves a professional dry cleaner
Every piece of clothing sold must have a care label. The label may have a string of symbols or just text stating how the piece should be cared for. If you can't make sense of the icons used on your label, check out our laundry symbols guide.
Garments whose care labels call for it should be taken to the dry cleaner. It is true that some manufacturers are overly cautious and label garments "dry clean only" just to be on the safe side. If you have a good deal of experience laundering delicate items, you can use your own judgement. We know from experience that plenty of items that are labeled dry clean only can actually be laundered at home with a little care – a silk blouse for example.
There are items that should always be entrusted to a professional cleaner, however. These include evening gowns, blazers, suits, and garments made of delicate materials that would forever lose certain qualities with washing. For tailored items such as blazers or fitted dresses, it may not be the material that needs professional care so much as the garment itself – its interfacing, linings, shape, applique, embroidery. An interfacing can be damaged by water, embroidery can tear, a lining can shrink differently from the outer material, the garment can lose its shape and never be the same again.
Does silk always have to be dry cleaned?
No. Not all silk fabrics have to be dry cleaned. Some silks can be washed by hand or on a delicate cycle in the washing machine. Here at Sartor we frequently test our silk fabrics and have found that many of them may be laundered, provided a suitable detergent for silks is used. You can review our findings yourself in our post on how to wash silk, which is definitely worth a read.
What happens to your clothes at the dry cleaner?
Professional cleaners have two basic methods at their disposal to clean your clothes: wet cleaning and dry cleaning. For wet cleaning the professional cleaner uses special laundry detergents, washers, and dryers that can sometimes clean items that are labeled dry clean only. An expert will know which pieces can be washed this way and will also have the means to press and steam a garment back into its original shape. They are able to achieve results you never could at home with your iron (even if it's a fancy one) and ironing board.
For dry cleaning, the professional cleaner uses solvents that are able to get dirt and stains out of fabric without damaging it the way water would. In dry cleaning, fabric does not shrink, pill, or change in any way. The process takes place in large drum machines and the most common solvent used is tetrachloroethylene (or perchloroethylene, also known as "perc"). The process only takes a few minutes (generally five to fifteen) and is followed by spinning and drying with hot air, during which practically all of the solvent is removed; a modern dry-cleaning machine removes more than 99% of the solvent, which is recycled in a closed loop to be cleaned and reused.
Aside from tetrachloroethylene, some dry cleaners use carbon dioxide cleaners and various chemical agents for localized stain removal.
Look out for buttons, sequins, and beads
Each dry-cleaning solvent has its pros and cons and an experience professional will know which one is right for the job at hand. Tetrachloroethylene is nonflammable, which is good, but it will damage some plastics and can ruin buttons, sequins, and beads or plastic pearls.
Dropping off and picking up your clothes
Before cleaning your clothes, the technician should carefully examine each piece to find any stains that need to be removed before cleaning (this is something the counter clerk ought to do with you when you drop of your clothes, pointing out any stains or damage and noting them on your cleaning slip). Some cleaners even have specialists on staff who deal only with stain removal.
After your garment has been cleaned, the cleaner should inspect it again and remove any vestiges of stains that might remain. Then your clothes are pressed and prepared to be returned to you.
A good cleaner will never return a poorly pressed garment. If you notice badly pressed areas or a mysteriously migrated crease on your trousers, point it out at once and have it set right. In time, and maybe with a little trial and error, you will know where to take your clothes to get the care that they deserve.
Share your tips
What is your experience with professional dry cleaning? Do you have a favorite spot? Have you ever tried "green dry cleaning" or a home dry-cleaning kit? We'd love to know!
Share your insights, horror stories, and happy endings with the Sartor community in the comments below.